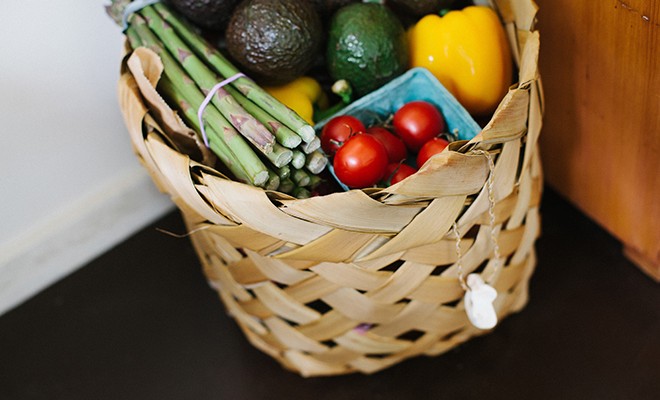 Leonie Wise
How many times have you stocked your fridge with produce only to find that you used less than half of it before it went bad?
It's hard to find the time to cook every day, let alone use up all the ingredients in your pantry and fridge before it goes bad. Ahead, you'll find five easy tips that will help you save a trip to the grocery store or maybe even a few extra bucks.
Say goodbye to food waste!
Make a "stock bag." Every time you cook, save your scraps! Corn cobs, carrot tops, parsnip peels — put all your bits and bobs into a large freezer-safe bag. Once it's filled, use it to make a multi-purpose vegetable broth. Just dump the bag into a big pot, cover with water, and simmer for a few hours. Strain it, and you have broth! When filling the bag, you can also add leftovers from meat. Bones are particularly good for stock. Our only real "no-no"s are broccoli, cabbage, cauliflower, or brussels sprouts as cooking them for a long time will make your kitchen smell terrible.
Utilize your freezer! Making soup, pasta sauce, or even pizza dough? Make big batches and freeze them in portions so it's easy to defrost a single serving. Can't finish your delicious smoothie or fresh juice? Freeze it into popsicles. Before your bread goes moldy, slice it up, and pop it into the freezer. Fresh herbs can be chopped up and frozen into ice cube trays. Even cookies and cakes keep well in the freezer as long as they don't lurk in there for too long.
Grow your own herbs. Sick of buying a bunch of herbs for a recipe and finding them dead in your fridge the next day? Plant some basil, mint, or cilantro in little pots for your sunniest windowsill! Not only is tending to and harvesting your own herbs really fun, but you also save a ton of money.
Make things that can last. Have a punnet of strawberries going overripe? Turn them into jam! Did mom give you a ridiculous amount of basil from her garden? Pesto time. Tomatoes about to go squishy? Quick, turn it into marinara sauce and plop it in a jar! Not only are you reducing waste, but you're also saving money on foods you'd normally purchase.
Write shopping lists and make an effort to stick to them. Make sure you have a "plan" for anything that isn't on your list. It's fine if you want to buy that purple sprouting kale at the farmer's market, but decide what you're going to cook with it before you make the purchase. Don't just buy something and assume you'll use it before it goes bad…because chances are, you won't.
xx, The FabFitFun Team