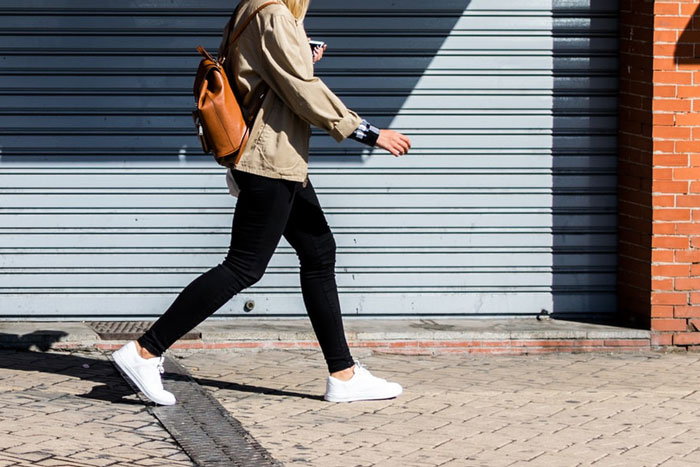 Running is not for everyone, and during a time where resolutions can be awfully intimidating, there's no need in forcing your hand (or in this case, your foot) to do something that doesn't necessarily make you happy.
However, walking is fairly easy and something that we do every single day. It can also have the same positive health benefits a runner might experience if you walk just the right amount.
Popular lifestyle and health and wellness brand, Fitbit, derives its beginner 10,000 steps-a-day model on this simple fact: "10,000 steps add up to about five miles each day for most people, which includes about 30 minutes of daily exercise — satisfying the CDC's recommendation of at least 150 minutes of moderate exercise per week."
Of course, achieving 10,000 steps per day is only the start of someone's wellness journey. You should also make sure you're eating the good stuff, sleeping well, and managing stress.
While we know that everyone's goals are different and garnering the gusto to hit 10,000 steps might take some time, we thought we could help by offering some free apps to get you headed on the right track.
World Walking
Available on the Apple App Store and Google Play
You can get a glimpse into new neighborhoods — no wait — countries with this incredible walking app. This app is free and helps to exercise your sense of adventure while also making sure that you're putting your health and wellness first. You can journey from London to Delhi in just over 14,000,000 steps with beautiful imagery and well-curated maps that make walking your block feel brand new every single time.
Fitbit
Available on the Apple App Store, Google Play, and the Windows App Store
The Fitbit app is a no-brainer! This fitness app pioneered the need to get stepping in the right direction, allowing you the chance to monitor your fitness and wellness progress right on your wrist. Fitbit encourages you (alerts you) to get moving when you've been sitting for too long, tracks your steps, and also tracks your fitness journey and sleep patterns. This app is incredibly cool and you don't need the actual Fitbit to reap the benefits.
Charity Miles
Available on the Apple App Store and the Android App Store
If finding the energy to get active is as impossible as searching for your keys when they're already in your hands, this app is for you. Charity Miles combines the best of two worlds — health and charity — to get you moving every single day. While this app is great for walking, it also tracks all movements like cycling, dancing, running, and more. For every mile of movement that you accomplish, Charity Miles will match your mile to a donation to a charity from their sponsorship pool.
MapMyWalk
Available on the Apple App Store and Google Play
The MapMyWalk app by Under Armour is a simple way to track your progression, save favorite routes so you can explore them again, and discover new routes in your neighborhood. This app is packed with all kinds of data-fetching tools so you can assess your progression properly and get on the right path to 10,000 steps.
Apple Health
Available on the Apple iPhone and Watch
Apple's Health app is featured on just about every iPhone that exists and works incredibly well (and hard) to track your daily fitness activity. Like the Fitbit, this app will measure your sleep patterns and walking patterns. It tells you things like how many fewer steps you might have walked compared to last week's progress, and allows you to track additional metrics such as your moments of mindfulness, nutritional progress, vitals, and much more.
For more tips on health and wellness, please consult your doctor or a professional to discuss exercise goals that are tailored just for you!
xx, The FabFitFun Team