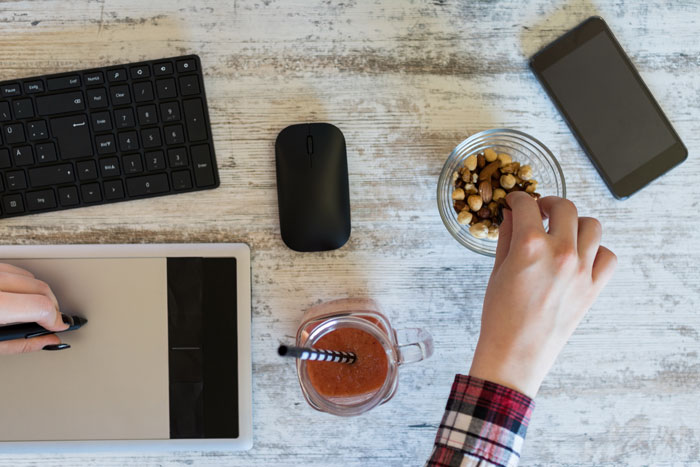 When your boss calls a meeting just as you head out for lunch or that afternoon break feels like a thing of the past, it's time for a snack. You need a satisfying boost of energy to get you through the workday, so it's important to make sure you're avoiding snacks that'll make you feel sluggish later on.
To help you out, we asked registered dietitian nutritionists for their best office snack recommendations.
Pumpkin seeds
Registered dietitian Jenn Hanes opts for roasted pumpkin seeds still in the shell. "I like them for the protein, fiber, and healthy fat content," she says. "They stay good for what seems like forever (I've never had them go bad) and it only takes half of a handful or so to feel satisfied and full. They also hold seasoning really well, so you can have different flavors and not get bored."
Roasted almonds
If you'd rather go for nuts over seeds, registered dietitian nutritionist Kara Lydon says, "I love roasted almonds for an easy, grab and go snack with serious staying power. Almonds are a great source of protein, fiber, and healthy fat." She adds, "When compared ounce for ounce, almonds are the tree nut highest in protein, fiber, calcium, vitamin E, riboflavin, and niacin. These nutrient-rich nuts are extra tasty when roasted with pesto."
Dehydrated veggies
For a healthy crunch packed with vitamins and fiber, Jennifer Hunt, a registered dietitian nutritionist, stocks up on beet chips or dehydrated veggies (preferably without salt). "A bag of crunchy and sweet beet chips boasts seven grams of fiber, a nice dose of potassium, and a whole serving of veggies," she says.
Whole food bars
Nutrition bars are among the most shelf-stable snacks you'll find, but they vary widely in the health benefits they offer. Dietitian Jean Maxwell weighs in with a vote for LÄRABAR. She says, "They have minimal ingredients and are made from whole foods (think dates and nuts). They are also vegan, gluten-free, grain-free, and soy-free, making them appropriate for many types of dietary restrictions."
Dietitian Bailee Hart appreciates RXBAR for the "short list of all-natural, whole-food ingredients." She continues, "They are naturally sweetened, high in fiber, and a good source of protein. [They're] great to have when cravings and hunger strike."
Nut and seed bars
"I always have some Primal Kitchen Collagen Nut and Seed Bars stowed away in my desk," says dietitian Stephanie Wagner. "I like that they are made with simple ingredients and natural sweeteners. I can also count on them keeping me full as they contain some fiber and have a balanced macronutrient profile. Plus, I think the chewy texture keeps things interesting."
Peanut butter
Dietitian Leanne Ray is all about good ol' peanut butter. Ray says, "I love keeping it on hand for pairing with fruits or veggies, topping oatmeal, or just eating straight up when I need something quick and energizing."
Raisins
Melissa Altman-Traub picks another oldie but a goodie – raisins. She says, "They last a while and are a good source of carbohydrates with a little fiber when you would like something sweet."
Olives
If you're in the mood for something different, Adrienne Raimo encourages you to eat a handful of olives. With a ton of convenience, she loves the healthy fats they bring to satisfy a snack craving.
xx, The FabFitFun Team