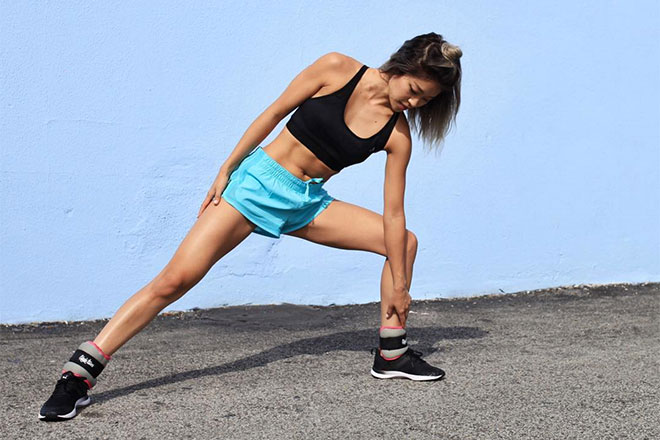 @rrayyme
Fitting the gym into our already busy schedules is definitely one of the last things on our minds. Between long commutes, making dinner, and maintaining relationships, it's easy to convince ourselves that even a quick workout isn't worth it — but it actually is.
Simply moving your body on a daily basis can have lasting benefits for your health. So we challenge you to swap your five-minute scrolls through Instagram for a quick and easy five-minute workout!
Tabata
Tabata is a high intensity interval workout that lasts four minutes — it's way more intense than you think. Pick any exercise you want whether it's push-ups, sit-ups, air squats, or burpees. Then set a timer and prepare yourself to sweat! Follow the structure below:
Do your chosen exercise for 20 seconds
Rest for 10 seconds
Complete eight rounds
6 Minute Abs of Steel
Yes, we know this is 60 seconds longer than promised. But when you begin to see that six-pack form, you won't mind the added minute. The goal is to do 12 exercises, for 30 seconds each time — you'll get some serious deep tissue toning. Check out Amanda Russell's video for a demo!
Jump Rope
Jump roping first thing in the morning and elevating your heart rate for five minutes is a simple and effective, full-body workout. Once you get a hang of jumping rope, you can mix up your form by jumping on one leg at a time or even whipping the rope twice around, so it goes two times under your feet with each jump. Try this workout with our FabFitFun x CosmoBody Jump Rope.
Leg Buster Workout
This former Marine Corps mom created a killer squat routine. You can do it while brushing your teeth or scrambling your eggs since your arms will only be necessary for balance. Ready, set, lunge!
Chakra-Balancing Flow
Calling all yogis! Awaken your body and your chakras with this quick but energizing flow. Stretch, strengthen, and center yourself before the stress of the day begins.
xx, The FabFitFun Team