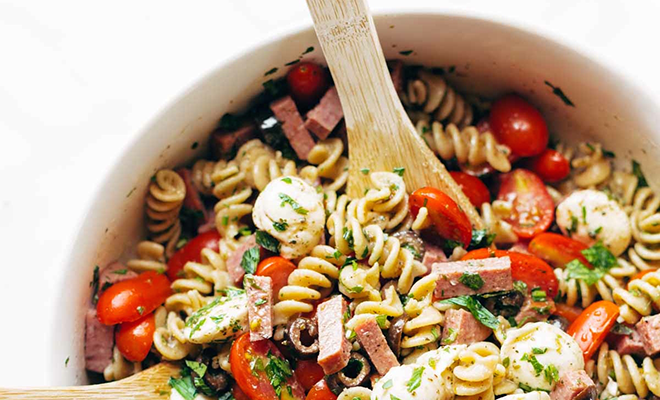 Pinch of Yum
It's hard enough to drag yourself out of bed and make it to work on time — let alone whip up a homemade meal. But cooking for yourself can actually be the best way to get out of a seasonal funk.
Not only can grocery shopping save you money, it can also be a huge stress-reliever because you'll know exactly what you'll be eating in the week ahead.
So to help you map out your next few lunches, we've compiled 11 of the most Instagram-worthy, healthy, and easy-to-make lunch recipes. Don't worry, you can actually make these at home without any serious cooking disasters…we promise!
Sun-Dried Tomato, Spinach and Quinoa Salad
Filled with protein and good-for-you greens, the sun-dried tomato in this salad provides just the right amount of tang to keep things interesting. We're pretty sure your co-workers will be jealous.
---
Garlicky Two Bean Soup
One of the best choices for a weekday lunch? A flavorful, healthy soup chock full of carrots, beans, red chili flakes, and more. Freeze what you don't eat and enjoy it for weeks.
---
Slow-Cooker Two-Lentil Chili
If you're looking for the easiest make-ahead meal, we've got two words for you: Slow. Cooker.
---
Plant-Powered Sloppy Joes
If you hear "sloppy joes"and get a rush of joyous nostalgia, well…you're going to want to take a look at this recipe. These particular ones happen to be packed with ingredients you will actually feel good about eating. It's a win-win!
---
Roasted Vegetable & Quinoa Harvest Bowls
What does this recipe entail? 30 minutes, 10 ingredients, and a to-die-for tahini sauce to finish things off. Bring extra forks, folks! We have a feeling you'll be forced to share this meal.
---
Best Easy Italian Pasta Salad
Any recipe that has the words "best" and "easy" in the title is worth trying, right? With a satisfying mix of cheese, red onions, spicy salami, and olives, we're pretty sure this one actually lives up to those claims.
---
Amazing Soba Bowl
A delicious coconut-peanut sauce tops this chilled noodle bowl, which can also be served warm if the office air conditioning's really getting to you.
---
Taco Salad
Our mouths are watering just looking at photos of this taco salad, which is, admittedly, more of "a salad in a taco." Dijon mustard, white wine vinegar, cheese, avocado, fresh corn and more combine to create the weekday lunch to end all weekday lunches.
---
Mediterranean Quinoa Bowl
A gluten-free, guilt-free salad that works just as well as a desk lunch as it does as a potluck side dish? Now that's a recipe worth bookmarking.
---
Fig, Goat Cheese, and Caramelized Onion Sandwiches
For all its fanciness and serious originality, this sandwich is surprisingly easy to throw together. (But your Instagram followers don't need to know that.)
---
Skirt Steak Salad with Blue Cheese
"Easy" is the name of the game when it comes to this skirt steak salad, but the Worcestershire sauce and mustard in the dressing keep things spiced and oh-so lively!
xx, The FabFitFun Team