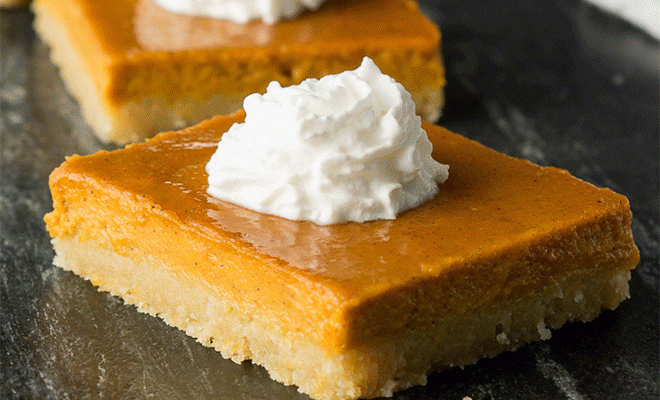 Pumpkin, pumpkin, pumpkin! In case you couldn't tell by our excitement that the PSL is back, we're totally obsessed with everything and anything pumpkin. #sorrynotsorry
As soon as you take a look at these mouth-watering recipes, you'll be spending all your time in the kitchen whipping up these pumpkin-infused goodies. Enjoy!
Pumpkin Pie Spice Popcorn with White Chocolate
Fall evenings are meant to be spent cuddling with your beau in front of a crackling fire and enjoying this delicious popcorn! This is definitely going to be your new go-to snack.
---
Pumpkin Nutella Cookie Bars
Combine Nutella and pumpkin in any recipe and we're definitely going to be obsessed with it! These yummy bars are no exception.
---
Pumpkin Pecan Baked Brie
This is the perfect dish to serve when your BFFs are over to celebrate your fave TV show returning from summer break. So make some Brie, grab some crackers, and you're all set.
---
Skinny Pumpkin Pie Popsicles
If you're totally bummed that summer is officially over, whip up this refreshing treat. It's an awesome blend of a summer dessert and a fall flavor.
---
Pumpkin Spice Latte Cupcake
We could always go for a cup of coffee, so it's clear why we love this confection so much. They'd make a great addition to your football tailgate party as well.
---
Pumpkin Churro French Toast Sticks
If you love brunch more than any other meal, check out this fall recipe. The dipping sticks would be great for a fun buffet with friends!
---
Pumpkin Pie Egg Rolls
At first we thought this was a little weird, but now we're totally going to make these the first chance we get. We know this dessert version of the popular food will totally win you over, too.
---
Pumpkin Pie Bars
Pumpkin pie is a must for fall, but what do you do if you don't want to mess with making the pie crust? You make this crust-free version, of course!
---
Maple-Glazed Pumpkin Poptarts
If you loved this breakfast treat as a kid, make these for a fun throwback snack. One bite will make you remember why you loved them so much.
---
Pumpkin Spice Puppy Chow
OK, this stuff is seriously addicting in its regular form, but add some pumpkin, and you'll probably eat the entire batch in one sitting. If no one is looking, the calories don't count, right?
---
Pumpkin Pie Oatmeal
Want a healthy and nutritious dish to start your morning? Use this easy oatmeal recipe to add a little spice to your breakfast routine.
---
Homemade Pumpkin Crepes
Just when you thought crepes couldn't be any more delicious, they added a bit of pumpkin to the mix. Just look how fluffy and scrumptious it looks. Yum!
xx, The FabFitFun Team