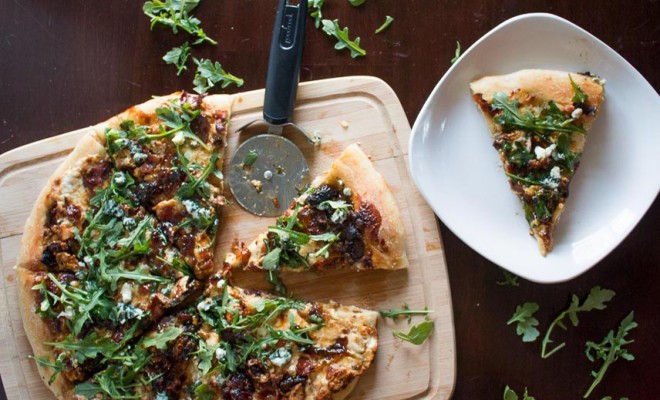 Pinch Me, I'm Eating
The best part about pizza is that it can be as simple or as gourmet as you please. And as much as we love our plain ol' cheese and pepperoni combo, there's something about a fancy slice of pizza that leaves us wanting more.
So get your hands on charred corn, arugula, and fig for these delicious pies that will surely satisfy your cravings.
Charred Corn with Rosemary Grilled Pizza
This pizza may be sauce-less, but it's just as mouthwatering as your basic pie (even meat lovers approve). It combines gorgonzola cheese, garlic, and corn to create one heck of a crowd pleaser.
---
Thai Chicken Pizza
Nontraditional pizza is often our favorite, and this flavorful recipe is no exception. The multiple veggies, chopped peanuts, and cilantro pair perfectly with the layer of mozzarella for a fusion dish you won't be able to refuse.
---
Asparagus Brunch Pizza
This recipe will steal the show at your next brunch. From the eggs to the asparagus, you get the best flavors and textures in every bite.
---
Blueberry, Feta and Honey-Caramelized Onion Naan Pizza
This variation is almost too pretty to eat (key word: almost). If you're looking for a pizza that's sweet yet savory, look no further. We can't get enough of this summer dish and find that it's the perfect way to use up those berries.
---
Beet Pesto Pizza with Kale and Goat Cheese
Skip the tomato sauce and try this beet base during your next pizza night. The beet pesto is unique and tasty, especially when paired with melted goat cheese and kale. You'll never place an order for delivery again.
---
Arugula and Prosciutto Pizza
You won't want a frozen pizza again after you try this recipe. It's easy to make, you get a healthy serving of greens, and the salty prosciutto tastes divine.
---
Pepperoni Pizza Gnocchi
While this isn't pizza per say, this dish is worthy of your attention. You get all of the great flavors and spice from a pepperoni pizza atop a "crust" of gnocchi (aka the best pasta ever). Add some parsley for an extra herbal kick.
---
Fig, Bacon, and Blue Cheese Pizza
Your tastebuds are in for an adventure because this pizza is sweet, tangy, crispy, and overall magnificent. The variety of ingredients is super satisfying — and who can say no to bacon?
---
Blackberry, Basil, Ricotta Pizza
You'll surely devour this pizza…how could you not? The berries, ricotta, and basil are the perfect package. Try this on a cauliflower crust for a healthier take.
---
Kale Mushroom Brie Pizza
This pie is for you thin crust lovers. From the sautéed kale to the brie, we honestly can't get enough of this pizza. The mushrooms are tasty and the hint of cream cheese is enough to send us over the edge.
xx, The FabFitFun Team