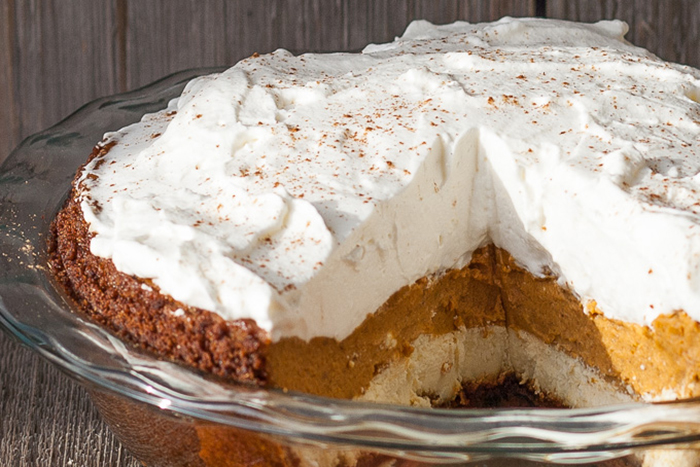 Feature Image by Art and The Kitchen
It's fall, which means we have pumpkin fever. But before you get yourself another PSL, you can satisfy your pumpkin craving with good ol' pumpkin pie. Better yet, take your pumpkin dessert obsession to the next level by infusing the delicious ingredient into other classic recipes. Trust us, your taste buds will not be disappointed.
What could be better than combining two of the greatest latte flavors to exist? This recipe keeps things simple while also adding an extra spicy kick on a holiday favorite.
---
Flaky, buttery, and delicious! These pumpkin pasties ooze all the flavors you love about pumpkin-flavored treats, but the best part? They're great for on-the-go (no utensils necessary!).
---
Who knew pumpkin pie and coffee cake would make a tasty pair? The two classic desserts combined with a cream cheese filling makes for an indulgent treat that's worth a cheat meal.
---
Make an evening out of your pumpkin obsession by inviting your friends and family over to make tamales. It's a long process, but it'll be worthwhile once you take a bite out of the sweet yet savory goodness.
---
A lot of people have made pumpkin cheesecake, but this unique recipe allows the two desserts to each have their own layers for double the flavor!
---
Chocolate makes everything better, so why not throw it into some pumpkin pie? The unexpected flavor combination is unlike anything you've ever tried and will leave everyone asking you for the recipe.
---
This classic dessert may not normally make it onto a holiday table, but with the added pumpkin, it's sure to be a crowd favorite. Not only is it tasty, but the presentation also makes it extra festive.
---
Even if you're heavy on traditions, you won't mind this slight deviation from the average pumpkin pie. In fact, one bite of the cookie-inspired pie might convert you for good.
---
Satisfy your pumpkin pie craving without sacrificing your healthy lifestyle. These protein bites are gluten-free, artificial sugar-free, and jam-packed with brown rice protein powder so you can eat clean in the most delicious way possible.
---
Whip this baby up for an office potluck or a family gathering. It's easy to make, serves a big group, and couldn't be more drool-worthy!
xx, The FabFitFun Team