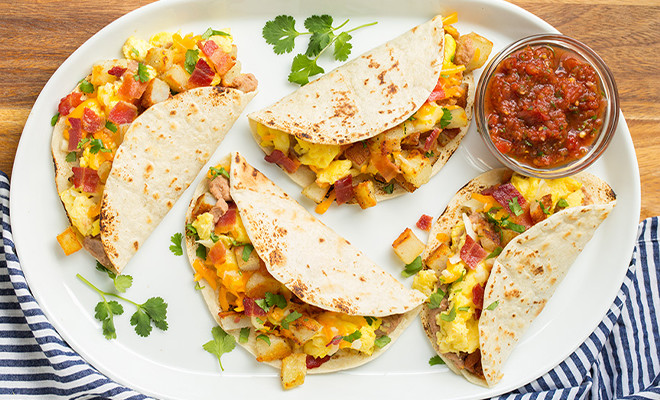 Tacos will never get old. Whether you're a fan of carnitas, al pastor, or even roasted vegetables, it's hard to turn down an evening of chowing down on tacos. They're so easy to make and you can fill them with so many different toppings — your options are endless!
Here are 10 delicious taco recipes that'll be sure to keep your Taco Tuesday's exciting:
Shrimp Tacos With Mango Salsa
You'll feel like you're on vacation with these shrimp-filled tacos that are loaded with a fresh mango salsa and a creamy cilantro lime sauce. Yum!
---
Buffalo Chicken Tacos
They're definitely not traditional, but these creative tacos combine spicy buffalo chicken with avocado, bleu cheese, and lettuce for a unique meal that combines two bar favorites.
---
Chipotle Pulled Beef Tacos
This taco is filled with tender meat, as the beef is slow-cooked to achieve its softness. Top it with a Greek salsa and avocado cream, and you've got one juicy taco!
---
Coconut Curry Fish Taco
Your fish tacos will never be bland again! These tilapia-filled tacos are loaded with a light coconut curry, making them flavorful and nutritious.
---
Roasted Cauliflower Tacos
Tacos definitely don't need to be unhealthy, and if you're trying to incorporate more veggies into your diet, these roasted cauliflower-filled babies are for you.
---
Grill Jerk Chicken Tacos
You'll be sure to impress guests with these Caribbean-inspired jerk chicken tacos, which strike the perfect balance between sweet and savory.
---
Ahi Tuna Taco
Raw fish doesn't have to belong in just sushi! Jump on the poke trend and fill your taco up with some fresh ahi tuna paired with a spicy slaw.
---
Loaded Guacamole Vegetarian Tacos
Who cares if this taco is vegetarian — guac is the best part of tacos, right? These veggie-based babies are filled with black beans, corn, and loads of guacamole.
---
Breakfast Tacos
Tacos at every meal? We think yes. Get your egg fix with these cheesy bacon-and-salsa-filled tacos fit for the A.M.
---
Korean BBQ Tacos
Get your Korean BBQ fix with these flavorful tacos topped with cucumber and slaw. You won't leave hungry after chowing down on these.
 xx, The FabFitFun Team