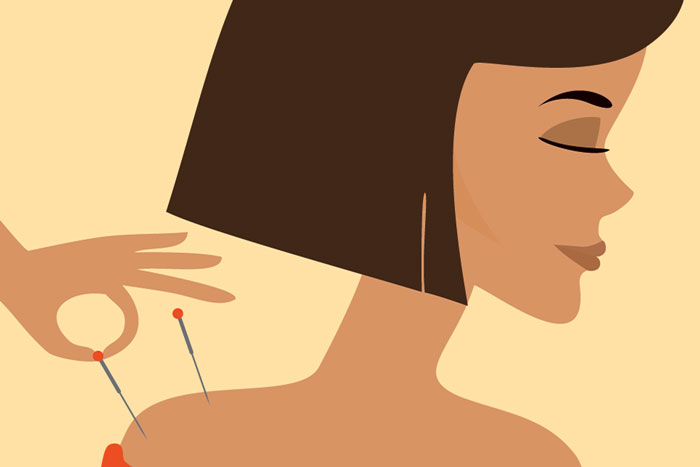 Acupuncture might freak you out if you're afraid of needles, but the traditional Chinese health practice can actually be so beneficial for your health. Many people rave about its abilities to reduce pain, restore energy, and more.
Below, we share five additional reasons why you should consider adding this holistic health treatment to your wellness routine.
Improved sleep
We all know getting quality sleep is key to staying healthy. Well, acupuncture can help regulate your body's nocturnal melatonin and sleep efficiency. It might also help reduce chronic pain or anxiety so you can rest more comfortably.
Weight loss
A 2014 study published in Medical Acupuncture stated when combined with a 2,000 calorie per day diet and a 15-minute walk each day, acupuncture helped obese women who were 22 to 42 years old lose weight. The stress and hunger reducing effects of acupuncture can also help you achieve healthy weight-loss goals.
Allergy assistance
Acupuncture can reduce allergy symptoms like sneezing, a drippy nose, and headaches. "It's common to see improvement even after the first treatment," says Thomas Burgoon, MD, President of the American Academy of Medical Acupuncture. "If you have ongoing (chronic) allergies, you might need two sessions per week for six weeks."
Mental clarity
Renown for its ability to restore energy and reduce brain fog, acupuncture might be exactly what you need in times of overwhelming stress. It'll be much easier to handle responsibilities and a busy schedule when you're feeling clear-minded.
Reduce PMS
Do you always dread your next visit from Mother Nature? Acupuncture treatments might be able to relieve some of your most severe symptoms including mood swings, cravings, cramps, and pain.
Have you tried acupuncture before? Share your experience in the comments below!
xx, The FabFitFun Team