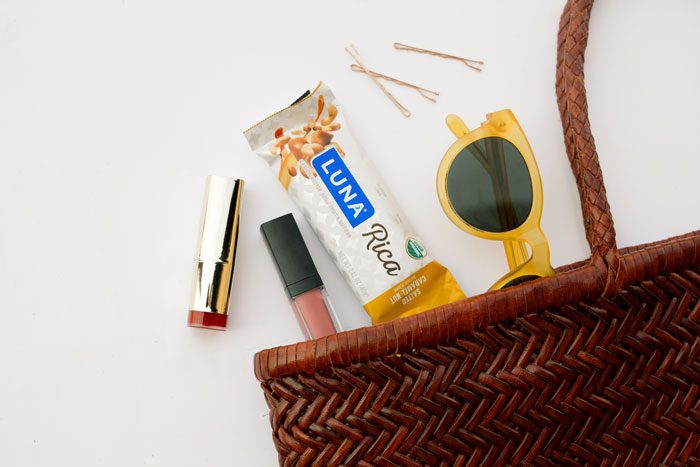 SPONSORED BY LUNA® BAR
From back-to-back meetings to dropping kids off at soccer practice, keeping up with a healthy diet is hard when you're always on-the-go. Luckily, there are a number of nutritious snacks you can stash in your purse so you're never left feeling "hangry" (trust us, we've been there).
Sick of the same ol' trail mix and banana? Here are five purse-friendly snacks to help you curb your hunger whenever and wherever you are.
LUNA® Bar
If we had to choose one snack of choice, it would be a LUNA Bar. The brand offers 24 crave-worthy flavors and each bar is chock-full of protein and fiber to get you through that midday slump. Plus, it's gluten-free and non-GMO, so you can rest assured your snacking game is in line with a healthy lifestyle.
Roasted chickpeas
Resist the tempting bag of chips and try roasted chickpeas instead. The protein-packed snack can be seasoned with pretty much anything and is a healthier alternative when you're craving something crunchy. Stop by your local health food store or try your own recipe at home and store it in an air-tight container or a Ziploc for easy, on-the-go snacking.
Rice cakes
Low in sugar and fat, rice cakes are always great to have on hand. You can also keep a packet of almond butter in your purse, so you can squeeze it on top of your crispy rice cakes! The whole grains and fiber will ensure your tummy stays content until your next meal.
Popcorn
No, we're not talking about the extra buttered popcorn you get at the movies. Stick with air-popped, plain popcorn for a healthy snack that's high in fiber. If you really can't do plain popcorn, season it with cinnamon for a sweet treat or cayenne pepper for a spicy kick.
Freeze-dried fruit
Unlike regular dried fruit, freeze-dried fruit doesn't contain any added sugars or preservatives, making it a much healthier option to keep your sweet tooth in check. The best part? Pretty much any fruit can be freeze-dried, so pick up your faves!
xx, The FabFitFun Team