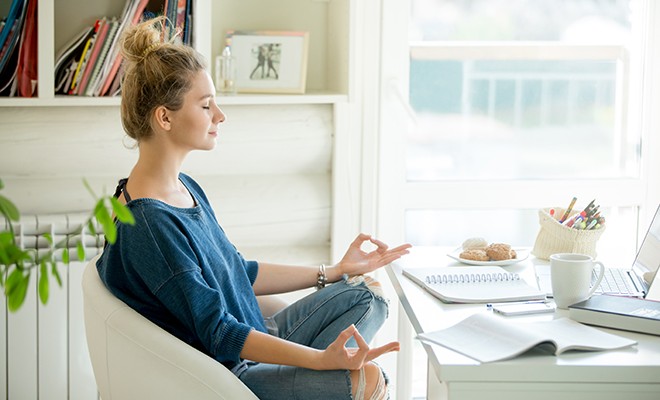 Has a stressful day gotten the best of you? Do you feel like you're so busy that you don't have the time to unwind? What if I told you that you could feel less stressed and more relaxed in just 15 minutes? The answer? Meditation. The next time that you're having a busy, stressful day, follow these easy steps for a beginner meditation:
Sit upright in a comfortable position
I prefer to cross my legs and place my palms facing upwards resting on my knees.
Close your eyes
Breathe in deeply through your nose and then slowly exhale through your mouth. Repeat this breathing pattern for 10-15 minutes.
Focus on your breathing
If your mind starts to wander, consciously shift your focus again to your breathing.
It sounds simple because it is! Repeating this simple practice daily can reduce your stress and help you to relax. If you need more stress-busting, check out a do-at-home circuit workout from The Workout Girl.
xoxo, Workout Girl
For the latest and greatest info on workouts, be sure to check out TheWorkoutGirl.com!
---
This story was written by a fab member of our Ambassador Network.