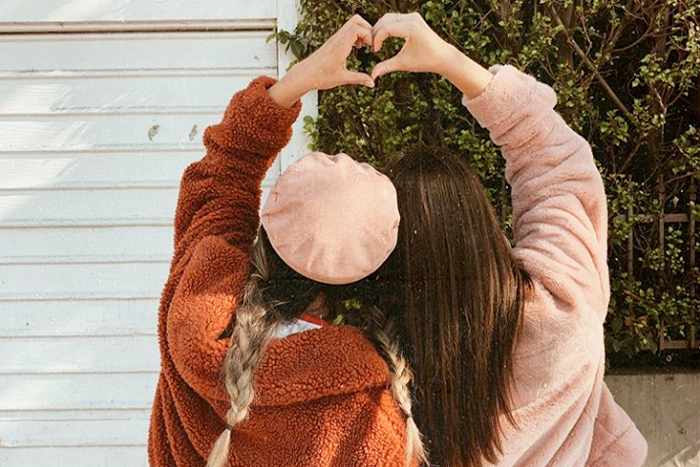 Feature Image by @monichang
With all the couples celebrating Valentine's Day around you, it's easy to feel left out if you're single. However, there are actually plenty of advantages to being single on the Hallmark holiday.
"So often, pressures and overwhelming expectations around holidays can be disguised as traditions or what is normal," says licensed professional counselor Melissa Coats. "After we relieve the pressure [of] what we think we should be doing, we get to be creative with how we choose to spend our time on these holidays. That means you get to do what feels authentic and fulfilling to you."
So instead of sulking on a day that should be about love, try these four things to embrace being single on V-Day.
Have a Galentine's (or Palentine's) Day party
Valentine's Day isn't just about celebrating romantic relationships; it's about celebrating friendships too. "Singles can get together with other singles and celebrate each other," says licensed clinical social worker Patti Sabla. Get a bunch of girlfriends together for a Galentine's Day party or throw a Palentine's Day celebration with a mixed-gender group. Sabla suggests exchanging cards to express how much you mean to each other.
Hit the town
Whether you enjoy cocktails during happy hour or attend a wine and painting class, you and your friends can enjoy singlehood together. "If you aren't coupled up and you decide to head out with some friends, chances are, most people at the happy hour are probably single too," says matchmaker and dating coach Michelle Frankel. "It can actually be a really great way to meet someone new."
Have a personal night in
February 14 doesn't need to be a big celebration. Take it easy at home and enjoy small pleasures like lighting candles or wrapping yourself up in a cozy blanket. Engaging your five senses can also help if you start to feel lonely. "Focusing on the senses helps us feel grounded and present," says Coats.
Try something new
Fall in love with a new hobby or activity by stepping out of your comfort zone on Valentine's Day. "Sign up for a yoga class, rock climbing, or anything that's been on your bucket list," says Frankel.
Need a little V-Day gifting inspo? Check out the perfect Galentine's Day gift for each zodiac sign.
xx, The FabFitFun Team