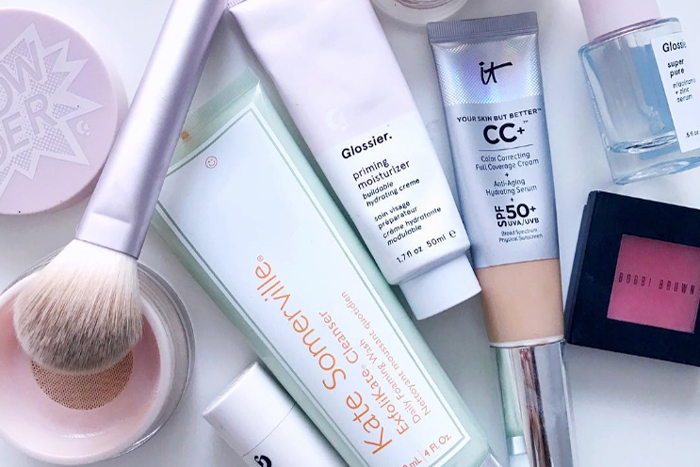 Feature Image by @caybabe
Whether you discover a dupe for a coveted designer bag or a luxury coat marked at 60 percent off, there's nothing better than finding a good bargain. But when it comes to beauty products, where do we draw the line between quality and affordability?
We turned to makeup artist and eyebrow extraordinaire Alix Taylor from Hairy Little Things to share five beauty products she recommends not purchasing from the drugstore.
Moisturizer
"All beauty looks start with the skin. If your skin looks good, your makeup looks good," says Taylor. "Since skin is always the first step in our beauty routines, I think it's important to purchase a clean-ingredient product that [moisturizes and nourishes] the skin instead of actually hurting it." The expert went on to share a few problems she's found with drugstore moisturizers. "A lot of drugstore face moisturizers come loaded with oils and fragrances that just don't need to be there. I don't think you need to go all out when it comes to choosing a moisturizer, but in terms of the ingredients, less is more!"
Eye Cream
"The skin around the eyes is the thinnest skin on our whole bodies right alongside the lip area," says Taylor. It's also one of the most delicate areas of your face and one of the first areas to show signs of aging, so look for ingredients that are gentle and formulas that are moisturizing and highly absorbent.
Foundation
Although a more luxe foundation can set you back quite a few dollars, Taylor says it's worth the splurge. "The reason I go for high-end foundations is that [it often has] cleaner ingredients and fewer 'fillers.' A lot of drugstore products use filler ingredients that can cause breakouts or cause oxidation, which is when [the foundation] turns a different color on the skin after wearing it for a few hours."
Bronzer
"Everyone loves to sculpt those cheekbones and chisel down their jawlines, but have you ever seen it go horribly wrong? I have. The most basic reason this happens is that they are starting with the wrong product," said Taylor. "When choosing a bronzer for contouring, you want to start with a matte and ashier-toned bronzer. A lot of drugstore bronzers are either packed with shimmer or tend to be a little orange."
Brow Pencil
"I am a self-proclaimed brow snob and always go top-shelf for all of my brow products! In my experience, I have found that drugstore brands just can't get it right in this department," Taylor shared. "The pencils and powders always tend to be a bit off in color – always being a little too red or a little too ashy."
Now that you know where to save and where to spend, experiment with some of the coolest beauty looks from New York Fashion Week.
xx, The FabFitFun Team