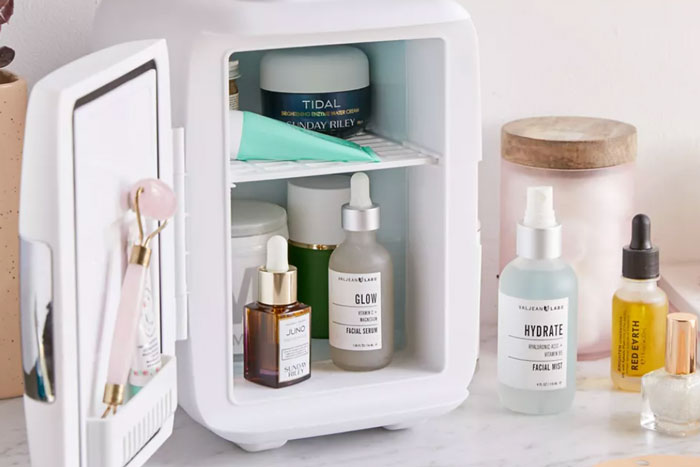 Feature Image by Urban Outfitters
Skin care fridges have been all the rage over the past few years and are more common amongst beauty lovers now more than ever. They're cute, accessible, and look so chic in your bathroom or bedroom. 
A minifridge to hold your skin care products sounds uber-luxurious and expensive but most of the fridges on the market are relatively affordable; they span from the Cooluli Mini Beauty Refrigerator ($59) to the Luxe version from Teami Blends Luxe Skincare Fridge ($150).
Despite which fridge you pick, it'll do the same thing for your beauty products: keep them cold! So what are the benefits of keeping your beauty products cold? Most notably, cold beauty products and tools can help decrease swelling, puffiness, and redness. Also, placing certain items in a minifridge can help prolong the shelf life so you can get the most out of your products! 
That being said, we've rounded up the best types of products to keep in your skin care minifridge.
Eye Creams, Balms, and Patches
Do you wake up in the morning with puffy, tired eyes? There is nothing more glorious than applying a cold eye cream or balm to wake yourself up. The cold will help depuff and wake up your skin while allowing the ingredients to still get to work. You can also leave reusable eye gel patches/masks in the fridge. We love to apply them onto our under-eye area for a mid-afternoon pick-me-up.
Sheet Masks
Just like eye creams and balms, cold sheet masks can help wake you up. If your skin is feeling sensitive, a cold sheet mask can offer extra soothing and refreshing benefits.
Gel Moisturizers
We're never without our moisturizer — it's the foundation of a solid skin care routine, after all! And if you want to amplify the cooling factor of your favorite moisturizers, place them in the minifridge. When the moisturizer is cold, then applied to the skin, the blood vessels in your face will constrict and help prevent redness. With a gel moisturizer, in particular, the consistency will cool your skin even better than a traditional cream moisturizer. 
Face Mists
Whether you finished a sweaty workout or you're just not feeling your best, a cool spritz of your favorite face mist can give you a mini cooldown, while nourishing your skin with hydrating ingredients.
Nail Polish
Yes, this sounds strange, but listen… it works! When your nail polish gets a little old, sticky, and tacky, it can be very hard to apply it seamlessly to your nails. Sticking it in the fridge and letting the temperature drop a bit will help prolong the life of your nail colors! 
Skin Tools
Storing jade and quartz rollers in the fridge is not necessary, but they do make the experience more luxurious! Applying a serum, then rolling a cold jade roller onto your face is a fantastic feeling. Plus, it can help calm any redness! 
Vitamin C Products
Vitamin C is a very sensitive skin care ingredient and it has to be appropriately stored. Keeping vitamin C in a cool, dry place away from the sunlight is best; that's why most vitamin C products are packaged in dark bottles. Leave your vitamin C moisturizers and serums in your fridge to help prolong the shelf life while also making them a dream to apply!
Do you store any other skin care products in your beauty fridge? Let us know in the comments below!
xx, The FabFitFun Team