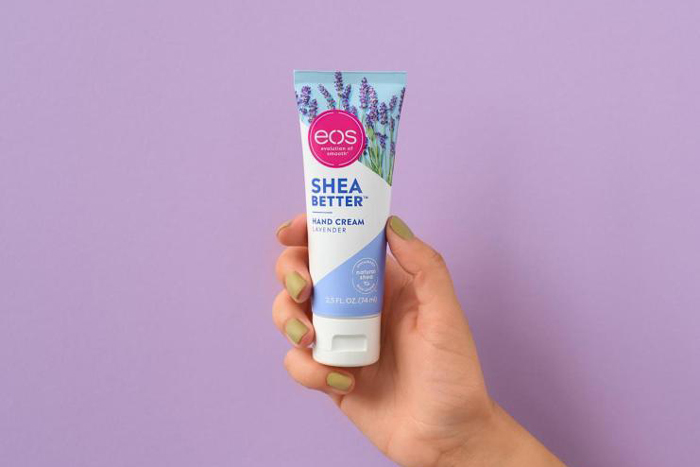 Feature Image by eos
Beauty brands have stepped up to do their part in supporting COVID-19 relief efforts, especially since many hair, makeup, and skin care companies are donating products and proceeds to those in need. Want to support brands who are keeping up the good fight? We compiled 25 beauty brands that are giving back throughout this global pandemic.
From major hair brands to indie skin care brands, be sure to upgrade your beauty cabinet with products from any of the companies, below.
Erno Laszlo is delivering care packages to front-liners (friends and family members can be nominated on the brand's website), which includes an assortment of the brand's best-selling skin care products.
---
From March 31 to April 6, Murad announced that 15% of all sales from its website would be donated to No Kid Hungry, an organization that aims to end childhood hunger in the United States. While the campaign ended, the company still deserves support for its efforts.
---
This eco-luxury skincare brand is doing its part to support COVID-19 relief efforts by donating 20% of all online sales to Baby2Baby, an organization that provides children living in poverty with diapers, clothing, and all the basic necessities that every child deserves.
---
For each post that has the hashtag #BITEtheBLUES, Bite Beauty will donate their Agave+ Nighttime Lip Therapy treatments to the front line medical staff at certain hospitals across the country.
---
This beauty brand launched a "Masks for Masks" donation program with A Million Masks Initiative to acquire and deliver personal protective equipment to health care workers. TULA has also donated funds to cover 5,000 masks in the NYC region. Consumers can get involved by purchasing the Star Bright Hydrogel Mask — 100% of proceeds will go to sourcing medical masks, surgical masks, and other supplies.
---
This beauty brand is donating $1 for every transaction on the brand's website to Direct Relief, a nonprofit organization that helps people whose lives are threatened by disaster, disease, or poverty. Kopari has also teamed up with 26 other brands — all of which pledged to donate 10% of proceeds to charities fighting to help those in need amid the COVID-19 outbreak.
---
This luxury hair care accessory brand supplied nurses at over 20 top hospitals nationwide with ponytail holders to keep their hair back.
---
This skin care brand has donated its own moisturizing hand sanitizer gel (and over 500 N95 masks) to local hospitals in Maryland and the surrounding DC area. The moisturizing mix includes aloe vera, vitamin C, methylene blue, and 70% ethyl alcohol, washing away harmful bacteria and leaving hands feeling clean and refreshed.
---
This sustainably-harvested seaweed skin care brand launched new hand sanitizers to help address hand sanitizer shortages. Additionally, Repêchage is donating 5% of the production to the first response community of Secaucus, New Jersey, which includes nurses, doctors, firefighters, and police officers.
---
This hair care brand is donating $1 for every transaction on the brand's website to Direct Relief, a nonprofit organization that helps people whose lives are threatened by disaster, disease, or poverty. The company also helps stylists through its newly launched Zenagen University, which includes free education as well as free products.
---
This line of hair and body care products (created by WWE superstars Nikki and Brie Bella) has been sending care packages to people directly on the front lines of the pandemic.
---
This Los Angeles-based skin care brand is encouraging customers to use promo code FIGHTHUNGER with their orders in order to donate 10% to the Los Angeles Food Bank.
---
Snow Fox Skincare creator Phoebe Song learned that so many of the first responders were having skin issues due to wearing their protective masks and wanted to give back. In return, Snow Fox donated 500 of their sheet masks to five different hospitals throughout the United States.
---
When you purchase a mask online, this skin care brand will send one to a first responder of your choice. To nominate a first responder in your area, simply submit the name and address of the EMT, paramedic, firefighter, or police officer who is making a difference to hero@franzskincareusa.com.
---
This beauty brand recently introduced a collection of faux lashes at a special price of $12. 50% of proceeds from this collection will be donated to Global Citizen & World Health Organization's COVID-19 relief fund.
---
This natural deodorant brand plans to give away 500 sticks of deodorant to medical teams on the front lines to say thank you for all their hard work and sacrifice. To nominate a nurse, doctor, medical technician, or other staff in your area, you can simply find the nomination form online via the brand's Instagram.
---
This beauty brand is giving away 200 wellness boxes (valued at over $150) to any essential worker still employed, regardless of the industry. Each box contains a variety of self-care products, including hand sanitizer, chemical-free all-purpose cleaner, and body scrub. Additionally, the box also includes gift certificates for a facial, heated workout, pilates, or yoga class.
---
Texas-based beauty brand SIIA Cosmetics has committed to donating over $5,000 of their Boss Face Foaming Cleanser to doctors, nurses, and other health care workers in the Dallas/Fort Worth area. Additionally, the team at SIIA is also volunteering with their local Meals on Wheels chapter in order to help senior citizens continue to get access to healthy nourishment safely.
---
To coincide with the brand's launch in April, ONE CLICK b.EAUTY is donating one of their makeup kits for every kit sold on Amazon. These kits are then donated to local organizations that are curating self-care packages for front line medical workers.
---
This grooming brand aims to donate sanitizers with naturally derived ingredients to counters at grocery and drug stores in their local community. The citrus sanitizer is an antiseptic (or preventative against the growth of disease-causing microorganisms) and can be an alternative to washing your hands when you're unable to do so.
---
Nu Skin has donated funds to the United Way of Utah County, an organization that supports short-term community needs like rent, power, and heat. Additionally, Nu Skin has also provided 2,000 masks to the medical community.
---
Sexy Hair is committed to supporting its stylist community by providing full pay to its education team for any show or event that has been canceled through April 14, 2020. Additionally, the brand has established a special On Locks Down Instagram Live Series to provide stylists and consumers with education (including pro tips and tutorials), and has donated more than 1,500 dry shampoos to hospital workers across the country.
---
The brand donated 50,000 of its Shea Better Hand Creams to New York City hospitals and health care workers last week. Now, the brand has donated another 50,000 hand creams – for a total of 100,000 donations – to support health care workers across the United States.
---
As part of L'Oréal's Solidarity Plan to fight COVID-19 and support health care professionals, La Roche-Posay is donating nearly one million 200ml purifying hand gels to hospitals and clinics throughout the world. The brand will also be distributing over five million purifying hand gels (75 or 100ml) to partner pharmacies worldwide to address global hand gel shortages.
---
This popular hair accessories brand has produced special Button Hairbands specifically designed to be worn comfortably (and securely) with a face mask while keeping hair back. Scünci has donated thousands of Button Hairbands across the tri-state areas most affected by COVID-19.
xx, The FabFitFun Team