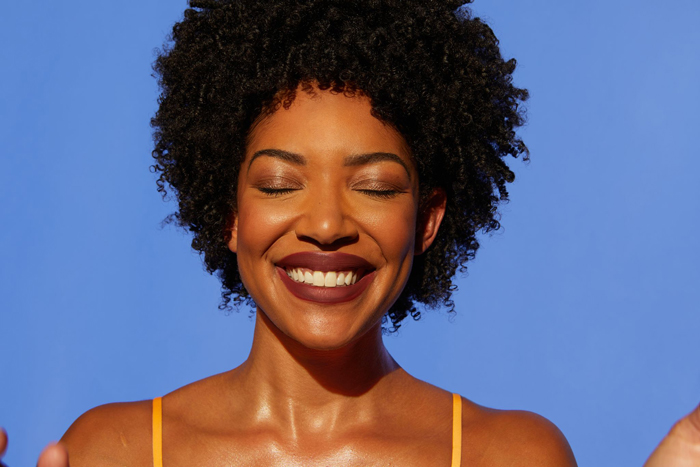 We love a good smoky eye, but a sun-kissed makeup look is equally as enticing. It can be quite tricky to nail this style though, so we're sharing an easy tutorial on how to achieve a natural glow.
Step 1: Prep the skin
After you've finished your skin care routine, generously apply the Supergoop! Unseen Sunscreen SPF 40 on your face and neck. It leaves a velvety finish to give your skin a nice dewy look, whether you wear foundation or not!
Step 2: Brighten the eyes
When it comes to eyeshadow, the key is to highlight and accentuate! Take the "Cookies" shade of the Eyeko Double Act Shadow Stick and line your upper waterline to add natural depth to your eyes. If you want even more depth, you can draw a slight wing on the outer corners of your eyes and smudge it out with the Aria Beauty Reusable Makeup Swabs. Then apply the "Cream" shade on the lower lash line and the inner corners of your eyes for a brighter look.
Step 3: Add some glow 
Next, it's time to add some shimmer. Take a few drops of the African Botanics Shimmering Gold Oil and tap sparingly onto the cheekbones, the bridge of your nose, and the sides of your forehead for added dimension. If you want extra shimmer, blend the Sol de Janeiro GlowMotions Glow Oils onto your body for an all-over glow!
Step 4: Set the makeup
Set your look with the Ciaté London Watermelon Burst Setting Spray. Hold the bottle seven inches away from your face (close your eyes!) and evenly mist your face in an "X" and "T" formation.
Step 5: Pucker up your lips
Let your lips do all the talkin'! Apply one to two coats of the Mented Cosmetics Liquid Lipstick for a subtle pop of color and all-day wear. The lippie features vitamin E and sweet almond oil for extra hydration. Tip: if your lips feel extra chapped, lightly apply the Seraphine Botanicals Fruit Butter Lip Mask to your lips before wearing the liquid lipstick.
Step 6: Take a selfie
Lastly, you should take a photo of your gorgeous self! Make sure you have optimal lighting to capture the glow on the high points of your face. You can also use the SOAR Selfie Ring Light to brighten up your selfie. Simply clip it to the front of your phone, turn it on to your preferred brightness, and start snapping away. Upload your selfie onto Instagram and tag us @fabfitfun and #fabfitfun!
xx, The FabFitFun Team
Psst! Have you signed up for FabFitFun yet? Don't miss out on seasonal boxes filled with the best products in beauty, fitness, and lifestyle, member-exclusive sales, an amazing Community of like-minded women, and more. Use code CELEBRATE at checkout for 20% off your first box.
To get the most out of your box products, make sure to check out the Members Only page.