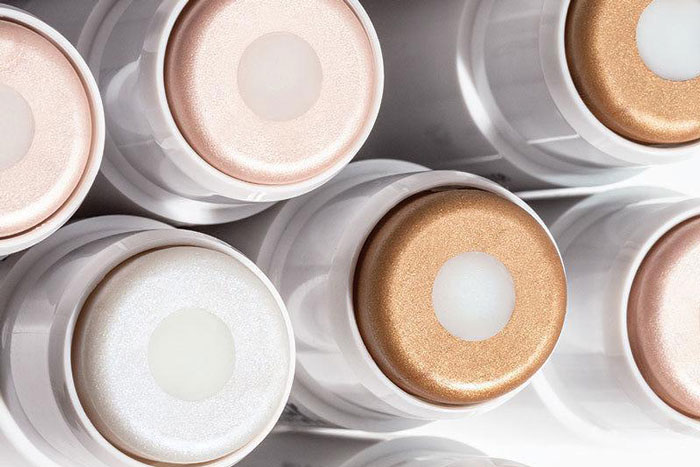 Feature Image by Glossier
Crystals are ever so popular due to its healing and balancing properties, so it was only a matter of time until we started seeing crystals like topaz, quartz, and jade incorporated into our favorite beauty products.
Curious to try out the beauty trend? Here are 8 crystal-infused beauty products you should add to your vanity ASAP.
Aquamarine is a mesmerizing blue crystal known for its calming effects inspired by the ocean. This set features natural red algae and apple extracts to boost hydration, purify, and calm skin. Our favorite is the Aquamarine Crystal Setting Spray, which prolongs makeup and soothes stressed-out skin.
---
This dual-delivery formula contains an outer layer of topaz crystal and an inner ring of vitamin-rich, moisturizing oils. The end result is a highlighter that melts into the skin, giving it that creaseless, plump, and radiant glow.
---
Made with 100 percent jade and proclaimed as one of Lea Michele's must-have skin care tools, this roller helps relieve tired, overworked eyes.
---
This luxurious hand cream is infused with shea butter and genuine sapphire, which is known to promote the production of melatonin. We recommend slathering this on your hands and body before bed to make the most out of your beauty sleep.
---
This customizable facial set contains amethyst, rose quartz, and citrine crystals to encourage skin repair, product absorption, and overall good vibes. Simply choose a crystal and rub it over your face for a mini facial massage.
---
This oil is infused with amethyst to neutralize the dreaded throbbing that can come from guzzling too much champagne at the holiday office party. Simply roll it onto your temples and wrists throughout the day to relieve minor headaches.
---
This decadent, iridescent mask contains blue sapphire, blue lotus, and blue copper that work in tandem to increase oxygen uptake and soothe the skin while amino acids, gold, platinum, and silver work to lift, tone, and firm the complexion. Skin is left revived and restored.
---
This gel primer is infused with honey, gold, and collagen to boost the skin's inner radiance and reflect light — so even while fighting off the crazed holiday crowds, your skin will be luminous.
xx, The FabFitFun Team