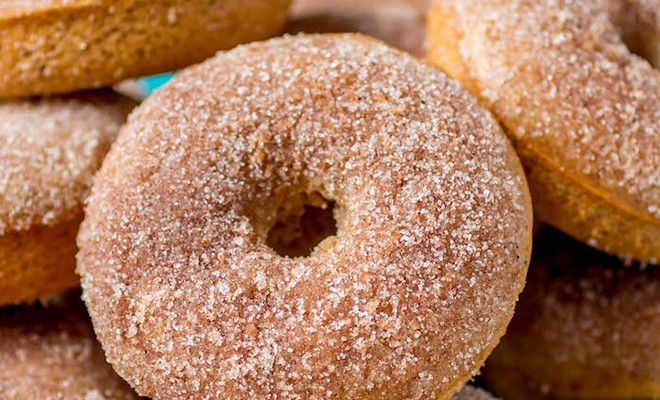 sprinklesomesugar.com
Now that colder months are here, we can finally whip out our favorite drink — apple cider!
We could sip on this holiday favorite all season long, but thankfully, there are tons of ways to utilize apple cider that don't just involve drinking it endlessly. If you can't get enough of the stuff, you'll want to try some of these tasty and inspiring recipes that all use apple cider.
Fall Harvest Apple Cider
There are a lot of ways to use apple cider, but let's start with the classic drink. This apple cider is made in a slow cooker using fresh apples and a variety of other fruits along with mulling spices. It might take some time, but it's well worth the wait.
---
Apple Cider Pancakes
Just because you're not thirsty doesn't mean you can't enjoy some apple cider. These caramel apple pancakes are made with the drink for extra flavor and added fluffiness — making them a great dessert or autumn breakfast.
---
Apple Cider and Brown Sugar Pulled Pork
If sweet treats aren't your thing, you can utilize your apple cider in more savory dishes. This tender pulled pork is cooked in apple cider and brown sugar, giving it a sweeter barbecue kick that works well with the pork's salty flavor.
---
Apple Cider Moscow Mule
Apple cider is delicious on its own, but why not make it a little more fun and add some booze? A Moscow mule is one of our favorite cocktails, but it becomes extra special when it's made with apple cider, too.
---
Caramel Apple Cider Cookies
Baking cookies is always a comforting activity, so turn up the oven on a cool fall day and prepare these sugar cookies that are stuffed with a caramel apple-cider filling. These are the type of dessert you'll want to enjoy fresh out of the oven.
---
Baked Apple Cider Donuts
For many, apple cider donuts are part of a fall tradition, and these donuts are baked, not fried, making them a healthier option. Spiked with apple cider and sprinkled with cinnamon sugar, these donuts are perfectly fluffy and easy to make.
xx, The FabFitFun Team