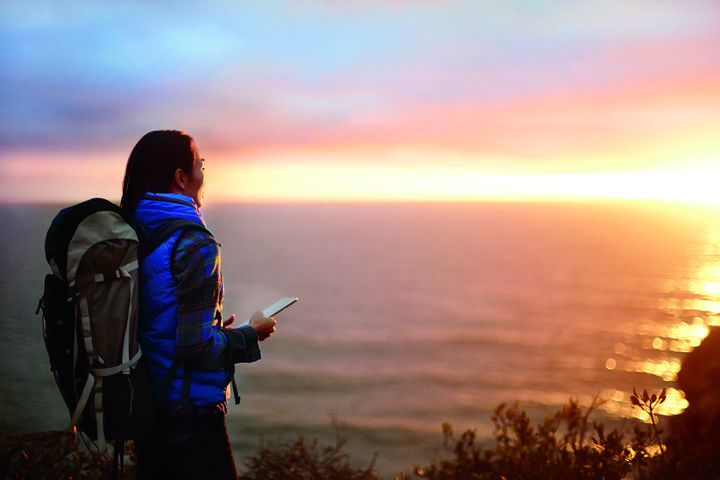 Sponsored by Intel Security
Imagine yourself on a beach in a remote Pacific island, pina colada in hand. The breeze blows through your hair and you hear the waves crashing, birds chirping, and….your phone buzzing?
Yep, according to a recent global survey of almost 14,000 people conducted by Intel Security, more than half of those surveyed who intended to unplug while on vay-k were not successful in doing so (#fail). And even worse than that? Americans, who already tend to not take their allotted vacation days, were least successful in abstaining from work emails while they were away from the office. (Women were even worse than men at unplugging — yikes!)
Here are a few reasons you should unplug and unwind:
1. You'll be more relaxed. Sixty-five percent of Intel Security's survey participants claimed their vacation was more enjoyable after being unplugged. Without receiving notifications every few minutes, you'll feel less stress.
2. You'll absorb your surroundings more. Starting to look at the world through a Valencia filter? By taking your eyes off your phone, you'll notice more of the scenery, and maybe even a cute foreigner winking at you.
3. You're less likely to get pickpocketed. Thieves often target travelers and take advantage of big crowds and distractions. By keeping your mobile device hidden (or leaving it at home) you also decrease your vulnerability (always make sure your data is backed up so personal photos and messages stay safe, and set a PIN or password for access).
4. You'll connect better with the people you're with. This is likely the only time you'll be in this exact spot with these exact people. Cherish your time away from the "real world" with your loved ones and meet new friends you can stay with if you ever come back!
5. Security. Connecting to unprotected Wi-Fi and Bluetooth devices can expose your personal information to a cyber-criminal, especially if you're exchanging payment information. Plus, criminals scan consumers' social information and updates to monitor when you're away and at your weakest point to defend an attack.
Do you think you could brave the challenge of totally unplugging on your next vay-k? Tell us in the comments below and join the conversation on social by using the hashtag #unplugging!
For more tips and advice to protect the security of your digital devices while traveling, visit Intel Security's Consumer Blog.
xx, The FabFitFun Team