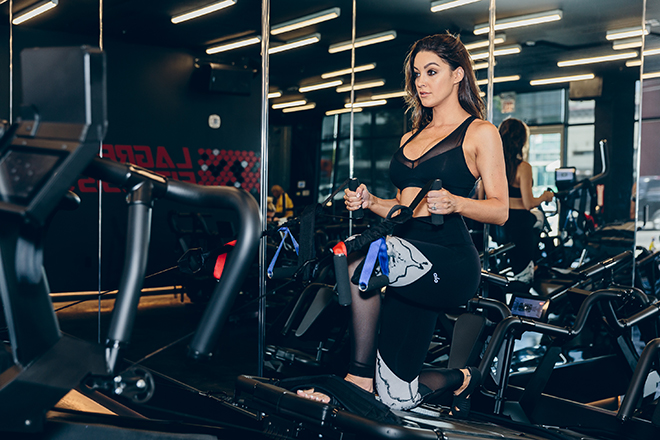 Do you dread long workouts? We totally lagree. If you're looking for a quick, intense sweat sesh that provides cardio, strength, and endurance training, and will give you a burn that lasts for days, you're going to love our newest FabFitFunTV partner, Lagree® Fitness Studio.
Sebastien Lagree, inventor of Lagree, and his wife, Dede, who is also the owner and lead instructor, created this LA-based workout promises to optimize toning and sculpting all over your body in just 25 minutes. Their patented SupraTM machine is equipped with tilting and inclining features that blast all 600 of your body's muscles at once.
To get a better look at the workout we chatted with owner and head instructor Dede Lagree to find out why FFFTV members should give it a try:
The workout is super effective
In just 25 minutes you're able to burn upwards of 400 calories thanks to the slow tempo and consistent hold. If you're using the SupraTM machine, your workout is even more intensified because of the platform's resistant-based features. It tilts 12-degrees each way and inclines up to two feet, just like a treadmill. You're essentially fighting gravity the entire time.
It tackles all the facets of fitness
Instead of a specialized fitness class, the Lagree Fitness Studio focuses on flexibility, stability, core, resistance training, weight training, endurance, and cardio in just one session. The full-body high-intensity interval training (HIIT) workout is a one-stop shop.
It's fun
They like to keep things interesting, so no two classes are the same. They also give you new ways to modify moves and create new ones. The options are endless!
It's great at burning fat
In this workout, you're working the muscles differently, executing motions using slow-twitch fibers. This movement stimulates fat-burn and improves lengthening and strengthening, rather than using fast, explosive movements that bulk up muscles.
It's safe
Lagree's moves and methods minimize tension to your joints and spine. It's a powerful workout, but the safety of your body is never compromised.
If you're in the Los Angeles area, make sure to book a class at Lagree Fitness Studio. You can even get in with Dede or Sebastien! If not, you're in luck. Their team has put together a collection of Lagree-inspired exercises that you can do on FabFitFunTV right now.
xx, The FabFitFun Team