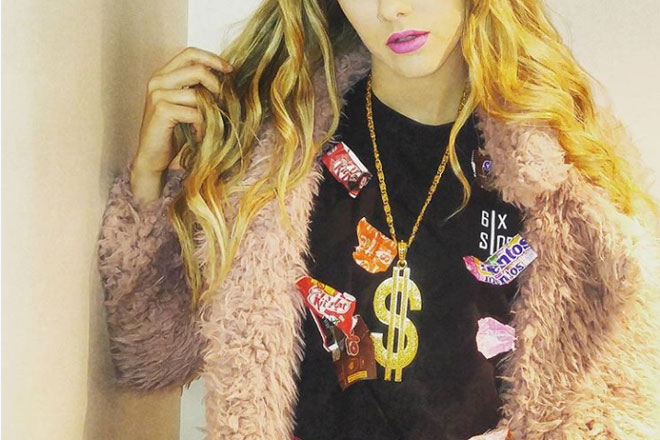 Feature Image by @taradugganxo
Halloween is tomorrow, and if you're currently without a costume, don't fret. You can pull together one of these 10 super simple yet quirky costumes scary fast.
Snapchat Filter
You already know that Snapchat filters make you look great on your phone, but turns out, they also make a pretty great Halloween costume. Grab some dog ears, a flower crown, or glitter, and you'll be ready in a snap.
---
Your Pet
Instead of dressing up as any old dog or cat, why not be your dog or cat? Paint your face to match theirs and borrow their collar for the night (with a promise of treats in return, of course).
---
Zombie + Insert Old Costume Here
The perfect way to repurpose any old costume, is to "kill" it. If you've been a nurse, school girl, or pirate in the past, just pop on some red, green and purple makeup and rip up your old costume to transform into a zombie.
---
iPhone
This one is super simple — just grab a white or black tee and print out the icons of your favorite apps. Use tape or fabric glue to stick them on, and you've got yourself a costume.
---
Old School Ghost
Cut two holes in an old sheet and throw it over for a throwback costume that's spooky good.
---
Your Significant Other
If you're coupled up this year and don't have a costume, just turn to each other's closets. Grab the outfits, accessories, or clothing items that your S.O. wears the most and dress up as one another. Better yet, just wear matching outfits!
---
Athlete
Grab a hat or jersey from your favorite sports team and pair it with some yoga pants and workout shoes for a simple costume that's also super comfortable.
---
Sleepy Head
Make your pajamas pull a double duty by wearing them to a Halloween party. Mess up your hair, bring a coffee mug, and yawn a bunch. Plus, you'll be ready for bed no matter how late you get home.
---
Vending Machine
Pull a black shirt out of your closet and tape an assortment of snacks and candy to your shirt. If you have extra time, cut arm holes on a box and do the same. Get really into costume by making sure your friends pay before they grab a snack from your costume!
---
Candy Rapper
Who doesn't love a good play on words? Deck yourself out in sweet kicks, sunglasses, and gold chains, then pin a few empty candy wrappers to your shirt — you'll be one of the most creative out of the bunch!
xx, The FabFitFun Team