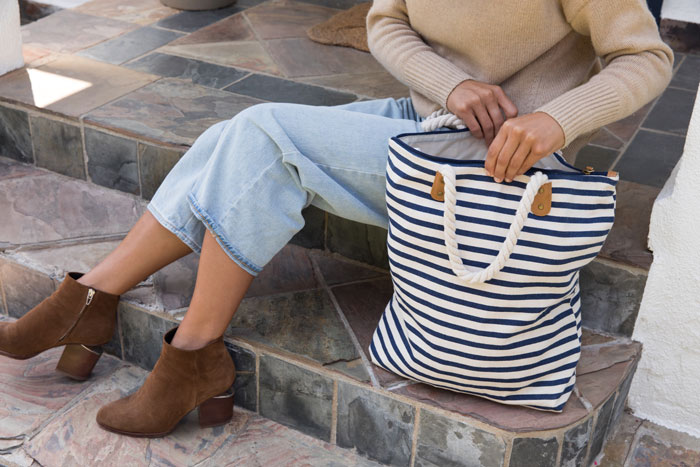 FALL 2018 EDITOR'S BOX PARTNER
Every working lady understands when we say that our work bag is our secret weapon. It's typically stocked with snacks to keep "hangry" cravings at bay, portable chargers, tampons (you know, for emergencies), and a tech device (whether that's a laptop, tablet, and/or iPhone). But aside from the necessities, there are a few items every woman should have in her work bag in case she's ever in a bind.
Check out five essentials we always have in our favorite work bag (aka the Summer & Rose Brittany Tote) below:
Jewelry
Trust us, you're going to thank us for this one. Jewelry has a way of elevating any look, so the next time you need to quickly look put together, slip on a statement necklace, gold cuff, or a fashionable ring like the ERTH TU Y YO Ring.
Hand cream
Working in an air-conditioned office all day can leave hands dry to the bone. Keep a moisturizing hand cream (our favorite is the AHAVA Mineral Hand Cream) to ensure your hands are hydrated, protected, and baby-bottom soft.
Earbuds
Music is one way to block out any unwanted noise while you're working. Even if you already have a pair of earbuds, we recommend opting for wireless ones like the CYLO Cobra Bluetooth Wireless Earbuds to keep the number of wires on your desk to a minimum.
Hair ties
How many times have you had to borrow someone else's hair tie? Skip the trouble of asking everyone in the office or using a not-so-hair-friendly rubber band and carry two to three hair ties with you at all times.
Statement lipstick
Similar to jewelry, a statement lip is the way to go if you need to look more dressed up. Your best bet is to have a deep red or a natural pink hue on hand for any fashion or beauty emergencies.
xx, The FabFitFun Team
Psst! Have you signed up for FabFitFun yet? Don't miss out on $200+ in amazing beauty, fitness, fashion, and lifestyle products, access to exclusive fitness and cooking content on FabFitFunTV, members-only sales, and more. Join today!
To get the most out of your box products, make sure to check out the Insider page.