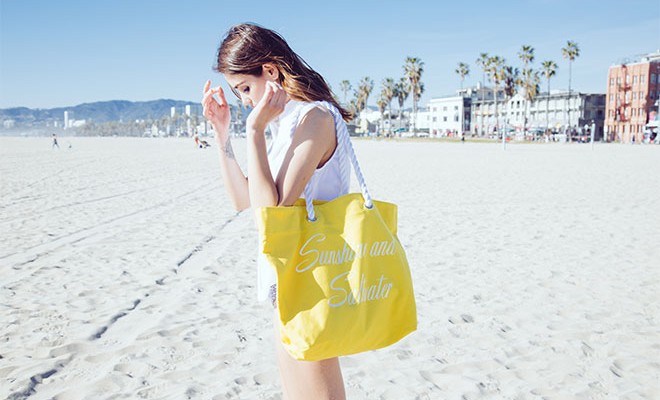 Summertime means bright colors, flip flops by the pool, and a sunny disposition. One brand that totally embodies that? Trina Turk! We chatted with Trina herself to pick her brain about mixing prints, trends, and what's in her FabFitFun x Trina Turk Tote!
How did your fashion brand come to be? Did you always know that you wanted to be a designer?
My mom taught me to sew when I was 11, and later demonstrated how paper patterns could be manipulated to create variations on a style. I fell in love with fabric, fashion magazines, and sewing. In high school, I decided that I wanted to be a fashion designer (although at the time I didn't really know what that meant).
You're known for your fun, vibrant prints. What are your thoughts on mixing prints?
I'm all for it! It usually works best when there is a color in common between the prints, and when they're of varying scales and complexity. For example: if one print is two-tone and the other is multicolor, and they both contain indigo and white,
it will probably work. The easiest pattern mix is a two-color stripe with a print.
What fashion and accessory trends are you expecting to see this summer?
Vibrant colors and graphic print, of course! My team and I also love texture and pattern mixing, and fanciful details like fringe, pom poms, and tassels.
What made you want to partner with FabFitFun on this adorable tote bag?!
We're on the same wavelength! My team and I thought we could say hi to those who already know us, and introduce Trina Turk to new friends through FabFitFun.
You're a California local, so what's in your beach tote?
A printed Trina Turk beach towel and "Shade" hat, Neutrogena sunscreen, big sunglasses, a magazine or two, my iPhone, an apple, some almonds, and a bottle of water.
xx, The FabFitFun Team
P.S. Psst! Have you signed up for the #FabFitFun box yet? Don't miss out on $200+ in amazing beauty, fitness, fashion, and lifestyle products every season. Join today!
To get the most out of your box products, make sure to check out the Insider page.