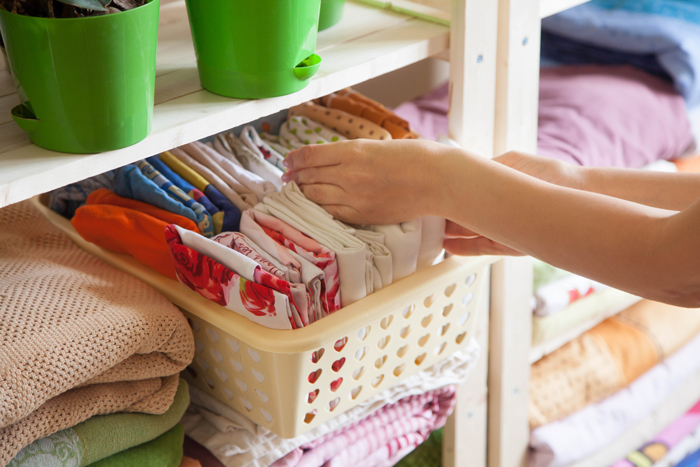 Everybody (and we mean everybody) has been all over Marie Kondo and her tidying method dubbed the KonMari Method — so much so that people have been using her name as a verb when talking about organizing their lives.
If you're unaware, Kondo is a renowned tidying expert and author of the New York Times best-seller The Life-Changing Magic of Tidying Up: The Japanese Art of Decluttering and Organizing, which got people all over the world hooked on her self-made system for organizing homes — making her (literally) a household name everywhere.
So what exactly is the KonMari Method? It's a technique that focuses on organizing by category rather than location — starting with clothes, books, papers, komono (miscellaneous items), and sentimental items. She advises her clients to keep the items that speak to the heart and let go of those that no longer spark joy.
Haven't hopped on the KonMari train yet? Here are four reasons why you'll find it hard to resist the clutter-clearing frenzy.
Tidying by category
Trying to organize your entire home or apartment is a daunting task, but people are raving about the KonMari method's effectiveness of tidying by category, rather than by room. In the straightforward step-by-step approach, you put everything in one big pile, then separate items into piles that you'd rather keep or toss. For the ones you toss, Kondo encourages you to, "thank them for their service, then let them go."
Finally ditching the stuff you don't use
"Sparking joy" is what the KonMari Method is all about. Try it, and you'll finally be able to let go of the clothes you haven't worn in years, throw out junk paper in your office, and banish any books you're no longer excited to read. The trick is to physically hold each item one by one. If it gives you a warm and positive feeling, keep it. Your sensitivity to joy will be honed as you progress through the tidying process.
Purifying each space
Following the tidying process is crucial, and purifying each room is something Kondo brings special attention to. Enthusiasts gush about the effects of transforming their messy homes into a serene and organized space, leaving them with a feeling of calmness in their home and in their lives as a whole. Kondo suggests opening windows, lighting incense or candles, or using aromatic room spray to make each room feel lighter.
Picture perfect house
After you get rid of the stuff you've been hoarding, you'll be in great shape to organize the prized possessions you have left. Expect Insta-worthy effects — like a closet that neatly fits and showcases your favorite shoes and bags, color-coordinated bookshelves, and a sparkling clean, clutter-free bathroom (finally!).
Looking for more ways to keep your life in order? Check out 10 simple yet beautiful planners to stay organized.
xx, The FabFitFun Team