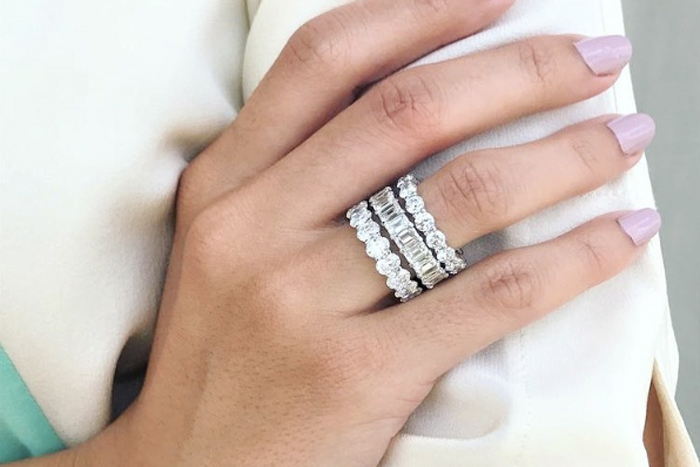 Feature Image by @caprijewelersaz
If you're like us, then you've been planning your dream wedding since you were 12 years old. Of course, the engagement ring is one of (if not the) most important part of the whole wedding – you have to look at it forever, after all.
Luckily, stunner ring trends are already on the rise this year, and we have no doubt it'll continue to shine throughout all of 2019. So whether things are getting serious with your significant other and you've had a ring on your mind, or if it's not so serious and you've still had a ring on your mind (we're not judging!), check out the gorgeous engagement ring trends that are going to be huge this year.
View this post on Instagram
Triple Threat
The triple-stone frenzy started with the reveal of Meghan Markle's swoon-worthy engagement ring from Prince Harry. Many brides followed suit — and for good reason!
---
View this post on Instagram
Stacks on Stacks
Who even needs a center stone? Stack a few pavé bands and you've got yourself a gorgeous engagement set.
---
View this post on Instagram
Marquise Magic
We're obsessed with this unique diamond cut that radiates modern elegance. Plus, the band and flanking stone options are endless with a marquise shape.
---
View this post on Instagram
More Morganite, Please
The morganite stone's soft pink hue is feminine and chic. The best part? It's more affordable than a diamond.
---
View this post on Instagram
Thick Is Slick
Gone are the days of micro-thin engagement bands plastered all over your Facebook feed of "I said yes!" posts. Thicker bands are making a comeback and we are here for the big bling.
---
View this post on Instagram
Uncut Diamond
The rough, uneven surface of an uncut diamond makes for a unique twist on a typical engagement ring. The unpolished piece is perfect for those who want to embrace their individuality.
---
View this post on Instagram
Hello Halos
Bling is back! The past few years were all about the simplicity of a solo diamond, but we're surely going to see the halo trend popping up again in 2019.
---
View this post on Instagram
Pretty Pearls
Pearl rings are making a swift climb to popularity for its classy, polished, and vintage feel.
Looking for the ultimate gift for your wedding party? Check out 10 bridesmaid gifts that are anything but cheesy.
xx, The FabFitFun Team