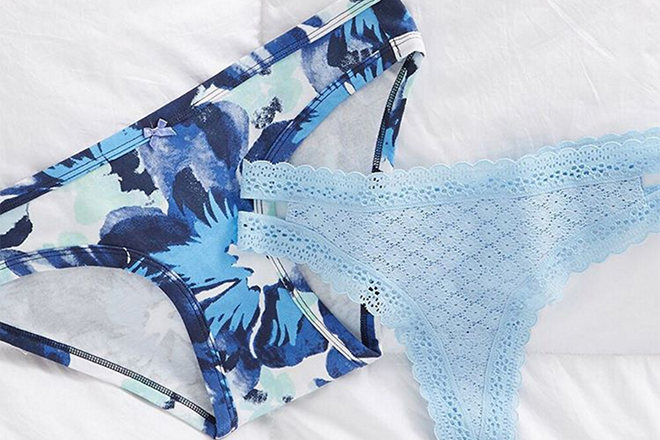 @aerie
We don't always give the proper attention to our undies even though we wear it everyday — but we should because they're an important part of our wardrobe!
Regardless if your underwear is showing or not, it's important to take care of your undergarments and understand when it's the best time to replace them. The questions below will help you decide when it's time to toss those undies.
Are they in bad condition?
This question is pretty obvious, but somehow we tend to ignore it. You know you deserve better, though! Kim Caldwell, creator of Hurray Kimmay (a site that offers tips on lingerie), says, "If your panties have holes, stains, or are stretched out, it's time to replace them." Toss anything that would make you embarrassed if someone else saw them.
Have you put them in the dryer?
While the dryer saves you time from cleaning your undies, it's not the best decision to put them through heat. Caldwell says, "Underwear usually has a bit of elastic or spandex in it, and those stretchy fibers can easily be ruined in the washing machine, and especially the dryer. High heat is death to stretchy material!" If you've submitted your panties to the dryer one too many times, it might be time to say goodbye.
Do they still fit?
Underwear may seem like it's one-size-fits-all, but that's totally deceiving. Even though your body doesn't drastically fluctuate in shape and size , your underwear can still fit differently throughout your life. Mariana Hernandez, designer at White Rabbit Underwear, notes, "Wearing ill-fitting underwear can not only be uncomfortable, but also unflattering if your pair is too small and digs into your sides (creating that dreaded muffin top) or too big, creating a bulky and baggy appearance underneath your clothes." No one wants that! Treat yourself to undergarments that fit.
Do they match your current wardrobe?
We aren't talking matching underwear sets. Your undergarments need to match the clothing in your wardrobe. For example, colorful underwear won't work if you love wearing white jeans. Or have some tight dresses or skirts? You need underwear like a thong or a cheeky pair that doesn't show your panty line — that means the granny panties need to go. The items in your closet change all the time, and those changes should be reflected in your underwear drawer, too.
Do you wear them?
This one is pretty self-explanatory. If it's just taking up space, it's time to get rid of them. No questions asked.
xx, The FabFitFun Team