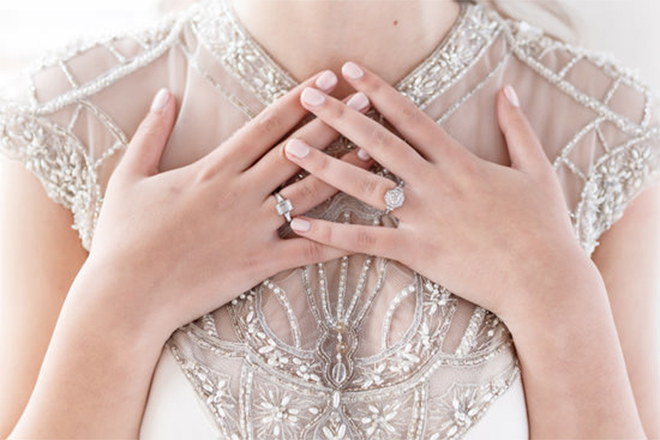 @sallyrosewhitelabel
If you're all about the glitz and the glamour (and you know you are!), there's no better time to show off your fab sense of style than when you choose your engagement ring. Bring on the bling!
Art deco rings are unique, fun, and oh-so sparkly. Definitely keep these '20s and '30s inspired wares in mind when it comes time to go ring shopping. These beauties will fit right in with the extravagant The Great Gatsby-esque wedding you've been virtually planning on your Pinterest boards!
Trumpet & Horn Shorewood Engagement Ring $5,700
Why stop with just one diamond when you could have this many? Dying to get this sparkling stunner on your finger? Can't say we blame you!
---
Uneek Round Diamond $3931
The only thing that makes a big round diamond better is a halo of smaller shiny stones around it. How gorge is this piece?
---
Etsy Art Deco Engagement Ring $3,545
This ring has such a unique shape, making it perfect for a non-traditional bride like you. Go glam or go home, amirite?!
---
Etsy Art Deco White Gold Diamond Solitaire Ring $335 
A simple stone and an intricate design is just the kind of detail you appreciate. This vintage ring is from the '40s which makes it that much more special.
---
Brilliant Earth  Turaya Ring $1,975
A one-of-a-kind vintage ring is just the kind of thing you deserve. One that's silver and filled with diamonds will perfectly suit your modern day 1920s flapper taste-level.
---
Etsy Rhapsody Ring $2,580 
A rose-gold ring like this is sure to make a statement. You're not shy so why should your jewelry be? There's no beating the sparkle power with this ring, that's for sure!
---
Ritani Tapered Baguette Engagement Ring $3,500
A gold band and a set of three square diamonds creates a ring that's as fancy and sophisticated as you are. Go on with your bad self, girl!
---
Etsy Modern Art Deco Engagement Ring Set $1,300
This ring is an intricate showstopper — it's a timeless beauty, and there's no going wrong with a ring that could never go out of style.
xx, The FabFitFun Team