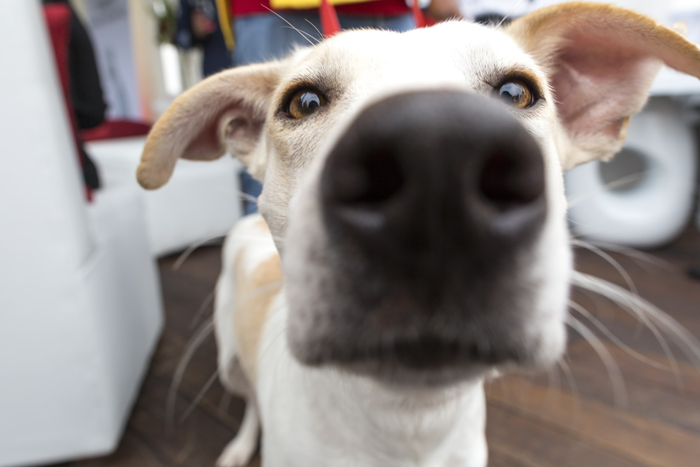 Feature Image by Agatha
There's a bit of thinking that goes into adopting a new cat or dog. To make sure you're making a thoughtful decision for both you and your future pet, we're dishing out some tips to keep in mind for when it's time to commit to that fur-ever kind of love.
Ask yourself, are you ready to adopt?
At a time when the word commitment leaves a thought bubble lingering over your head, you must be comfortable with the idea when adopting your pet. You're looking at 10 to 15 years spent with a pup and possibly up to 20 years of lovin' for a cat. If you're in a constant battle with the heart and the head, ask yourself some critical questions like:
• Do I have the time it takes to train, play, feed, walk, cuddle, etc.?
• Do I have the means to pay for vet visits, possible health issues, food, toys, and pet deposits?
• Do I have the perfect space this pet deserves to grow up in?
Pets are an emotional investment
Dogs and cats are notorious for giving us cheeky grins and unconditional love. According to Psychology Today, "…dogs can provide support and a sense of calm for our daily emotional and psychological stresses, as well as traumatic events." While we have these needs, so do our pets.
When you adopt, you run the risk of bringing home a pet that has quite a developed personality. Your dog or cat could suffer from anxiety or one that has endless energy – to which you will have to keep up. No matter what quirks your pet brings to the table, you need to have the emotional stamina to be a source of positive and endless comfort for them.
Do you have the money?
We love our pets, but they are costly. In an article from the New York Times, a survey showed that dog owners spent almost $2,000 in one year, while cat owners trailed behind at $1,200. Granted, this is an average that does not include unforeseen health issues, excessive vet visits, dental visits, etc. What it does include is food, litter, one or two vet visits, and annual shots.
When you adopt, you're asked to pay an adoption fee that actually lowers your first-year costs. Cat adoption can cost anywhere from $34 to $276, while the cost for adopting a dog can range from $118 to $667, according to the Animal Humane Society. These fees often include but are not limited to deworming medication, a return period, spay/neutering if necessary, flea/tick treatment, and a physical examination. Adoption fees make the cost of the first year a lot lower, but it's smart to evaluate your finances to make sure you can afford your four-legged partner for years to come.
Know the requirements
Often times, adopting a pet isn't as simple as going to the shelter and following your gut. Some rescue facilities and shelters have adoption fees and applications that may require you to tick off some special boxes. It's good to know what those are beforehand so that you can be sure that you're qualified before arriving at the shelter. Once you're at the shelter, ask questions and work through the application with the staff. Don't forget that asking questions is key in this process so that your shelter can adequately guide you in choosing your pet.
Make a house a home for your four-legged friend
It's time to bring your cat or dog (or both!) home. Place a cozy bed in each room so they can find a safe place that works for them. For cats, make sure they have a scratch pad and a litter box. If you're bringing home a pup, make sure they're fully trained before forgoing any puppy pads. It's good to do a full scan around the house to see if there's anything that can be harmful to your pets. For example, some plants are poisonous to animals, so you want to make sure it's out of the house.
We'll be the first to admit that the day you bring home your adopted pet can be considered the best day of your life. Just remember to ask the right questions, take the proper steps, and that talking to your pet is not that weird.
xx,  The FabFitFun Team