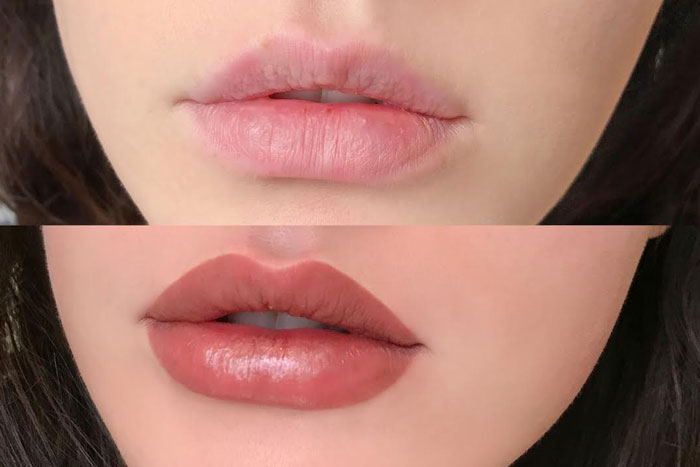 Feature Image by Christina Son
While a lot of us want fuller, more defined lips, we might not be willing to get painful, expensive injections to achieve the results. Even if your lips are already on the plumper side, you can experience loss of color and definition as you age. Luckily, thanks to lip tattooing, often called lip blushing, you can remedy this without a visit to the plastic surgeon's office.
Celebrity lip, lash, and brow artist Christina Son provides her clients with lip blush tattoos to create a youthful and natural-looking pout that lasts for years. The pigment is applied with a tattoo needle (not as scary as it sounds, trust us) to define the shape of your lips and add a subtle color. Rather than the harsh results of old-school lip tattoos, lip blushing is all about enhancing your feature, naturally.
We asked Son to share everything we should know before considering lip tattooing and exactly what to expect from the process and results.
What to do before your appointment
"Lip blushing is a semi-permanent tattoo that defines your lips, creating volume and fullness. It also corrects any asymmetry or darkness, giving your lips a very youthful appearance" says Son. There are several things Son strongly recommends her clients do before getting a lip tattoo to "ensure that your skin is in the best condition as possible for the procedure." Treatments such as lip injections and chemical peels need to be done at least four weeks before your appointment. Avoiding alcohol, caffeine, and exercise the day of the procedure is also key for prep.
---
What's the process like?
The initial process takes approximately three hours and costs around $650. Your technician will first start by applying a medical-grade topical anesthetic to numb your lips for about 20 minutes. After the numbing agent is removed, the treatment begins first by tattooing the outline of your lips, then filling them in. The process can be uncomfortable for some, as your lips are a sensitive area, but once it's over, your lips shouldn't be sore. You might have the sensation that you just did an aggressive lip scrub, but it will quickly fade.
---
Aftercare is key
Your lips will look darker after the initial treatment, but this will fade to a much more natural hue, Son advises. She also urges her patients not to pick at the dry skin while the lips scab and heal, as this can disrupt the color. You can soothe the skin during the healing process by applying a tattoo aftercare ointment. Besides keeping the area clean and not picking at scabs, there are a few other aftercare practices that are key to ensure your lips heal well. Son recommends her clients avoid working out or sweating for two weeks and no tanning or excess sun exposure for 30 days. Keep your lips as dry as possible (besides aftercare ointment) to avoid premature scabbing and refrain from booking any facial or chemical treatments that include alpha-hydroxy acids (AHAs), Retin-A, or glycolic acid. Be sure use only clean beauty lip-care products, like those included in our makeup subscription boxes. With any cosmetic treatment, be sure to consult your artist before and after for a list of things to avoid and aid in the healing process.
---
How long does the color last?
Six weeks after your initial lip blush appointment, you can go back for a touch up to fill in any light or uneven spots. Son notes that "after touch up, the lip blush tattoo will last from approximately two to five years." Everyone's skin is different, so the staying time will vary from client to client.
xx, The FabFitFun Team