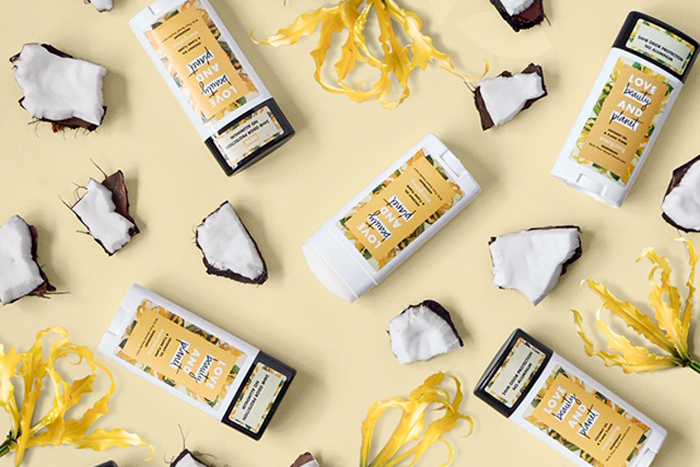 Feature Image by Love Beauty and Planet
SPONSORED BY LOVE BEAUTY AND PLANET
Aluminum-free deodorant has been on the market for years, but it's picked up steam as people are more conscious of the products they're putting both in and on their bodies.
So, why the switch? Well, for starters, aluminum-free deodorants only include the ingredients you need to smell good. Plus, when you shop Love Beauty and Planet, you can rest assured that you're also giving a little love to the planet.
Not convinced? Here are four reasons why you should use aluminum-free deodorant.
Thoughtful ingredients
Aluminum-free deodorant clearly makes mindful choices when it comes to its ingredients list. Love Beauty and Planet's deodorants, for example, are infused with organic coconut oil and made with plant-based deodorizers, which help to keep you smelling fresh for 24 hours. Not to mention, it's vegan, not tested on animals, and free of parabens and alcohol.
Recycled packaging
Not only are you giving your body a treat when you use Love Beauty and Planet's deodorants, but you're also making an eco-conscious choice. The brand's aluminum-free deodorants are fully recyclable and the canisters are made from 43 percent recycled materials to align with its brand mission to reduce waste and give a little love back to the planet.
Carbon conscious mission
Love Beauty and Planet's goal is to reduce their carbon footprint through new technologies and formats. The brand also has a carbon tax fund ($40 per carbon ton goes into the fund) that goes to support third-party programs and serves as an incentive to help reduce carbon emissions.
Sensible scents
We're obsessed with the Love Beauty and Planet Coconut & Ylang Ylang Deodorant Stick because it is infused with ylang ylang extract and delivers a fresh yet rich floral, jasmine-like scent with overtones of fruit and spice.
xx, The FabFitFun Team