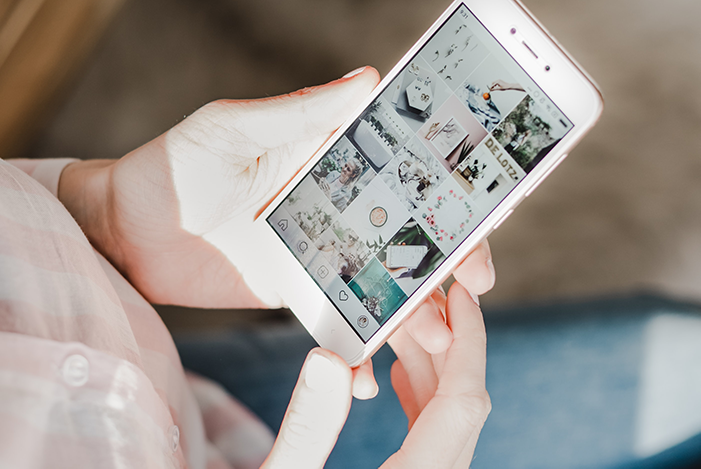 Feature Image by Georgia de Lotz
Your social media accounts might not be the first thing you think to clean up before job hunting, but it definitely should be. Why? It can either help you stand out in a crowd of applicants or potentially cost you a job.
To help you put your best online foot forward, we asked HR specialists to share tips and tricks on how to manage your social channels while job hunting.
Less is always more
"Think twice before posting photos, videos, or stories of yourself or friends that might make your grandma blush," says Angela Mayhew, recruiting manager at FabFitFun. Avoid posting unprofessional and sloppy content — not only in photos but also in captions! "Unfortunately, in this competitive landscape, it can really come down to details like this when deciding between two candidates. As they say, the internet is forever, so don't forget to do a social media cleanup of platforms that you no longer use that might come up in a Google search."
Consider the image you want to create
"As a potential employee, a company would be looking to see how you represent yourself and your personal brand. It's a chance to get to know more about you, your interests, creativity, and humor. They're not necessarily looking for squeaky clean, but content that you would not be embarrassed about if a potential employer were to pull it up in front of you. When in doubt, keep your social accounts private," says Mayhew.
Align your brands
"Take a look at the company you're applying for. Is your personal brand aligned with theirs?" asks Israel Gutierrez, talent manager at Dotdash. "Are there other correlations to highlight?" Gutierrez adds that it's important to know your audience. If there's a particular topic that you're passionate about and it aligns with the company's values, share it!
Add it to your resume
It can actually be a good idea to add your social handles to your resume. "Make yourself visible. Add your social profiles to your resume to get more attention, and follow more relevant hashtags," says Avik Chakraborty of Human Resource Arena. "Companies are more keen to look into an individual's social profile rather than only at their resume."
Looking for meaningful career advice? Check out 10 successful women who share their goals for the year.
xx, The FabFitFun Team