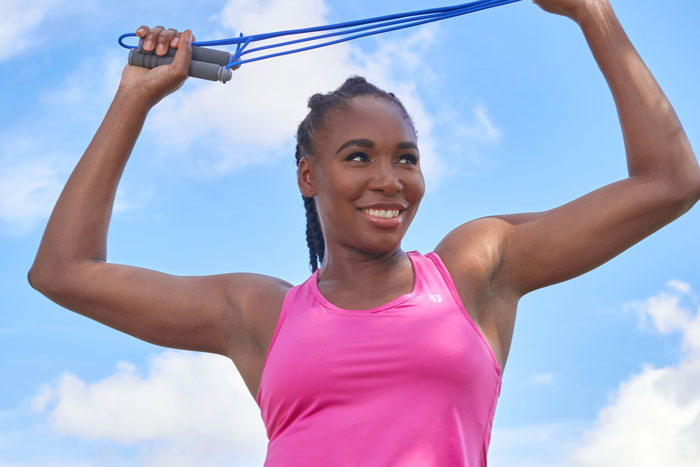 SPRING 2019 BOX PARTNER
Venus Williams may be a top-ranked tennis star, but she's more like us than you'd think.
Beyond her endless trophies (like seven Grand slam titles and five Wimbledon championships, to say the least), Williams has the cutest dog named Harry and her current workout playlist includes Rihanna and David Guetta.
Yep, she's as real as it gets – so, obviously, we're incredibly honored to partner with her this season to bring you the EleVen by Venus Jump Rope.
So what's her secret to staying grounded? Where does she find inspiration? Check out our exclusive interview with Williams below. 
Why did you decide to partner with us?
I wanted to partner with FabFitFun because I love what [you] stand for – motivating women to keep on with their fitness journey and enjoy the hustle as they go.
You have been playing tennis all your life. What motivates/pushes you to continue playing?
I'm always looking forward and pushing myself to do better than my best. Life for me is all about being an 11 out of 10. I don't stop and think about my past achievements – that's meaningless to live in the past. I look forward. Eyes on the prize.
Do you have any pre-/post-game rituals?
Enjoying the city I'm lucky enough to play in. Checking out the culinary scene, exploring, [and] enjoying.
What's the best advice Serena ever gave you?
The best advice Serena has given me was also the best advice I've ever received in my life. It was the US Open and we were both in the semi-finals. I asked her if she was nervous and she said, "No, I'm not nervous because we have to show up. And since we have to show up, why not compete?"
What makes you feel the most confident on the court?
Look good, feel good. My EleVen styles help me get into my groove on the court. I love the boldness of them and [the clothing] empowers me to be my best self. You also need to hustle on the court, so EleVen is made to move with you. The clothes don't get in the way so I can focus.
Does your approach to tennis differ from your approach to EleVen?
No. Both [are] driven by the same idea: Keep pushing yourself to be better than you were yesterday.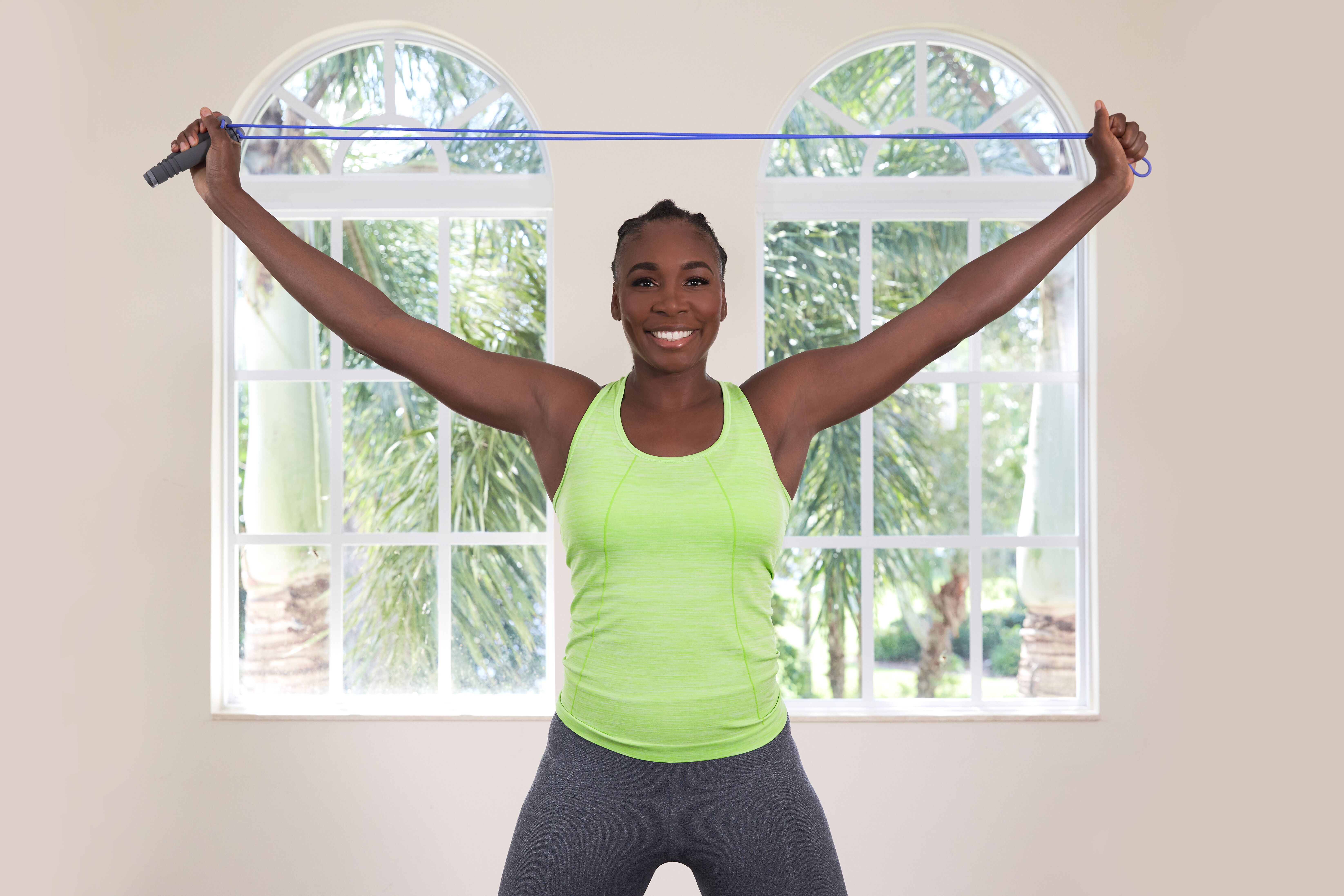 How would you describe your personal style on and off the court?
I love to be comfortable. It's why my Seamless line exists. I wear my Seamless Smooth Legging all the time.
Where do you get inspiration for EleVen?
Everywhere. I travel a lot and keep my eyes peeled at the colors and feeling of spaces I get to visit. This helps me pick colors to incorporate into my collections. I also love Instagram for seeing how people wear their EleVen. It keeps me inspired and passionate about why I create and design.
Do you have any words of wisdom for FFF members who want to be female entrepreneurs?
Keep striving. Don't let setbacks push you off the course. Stay true to yourself and keep being better than your best.
What's on your workout playlist right now?
David Guetta, Ciara, Rihanna, and Frank Ocean!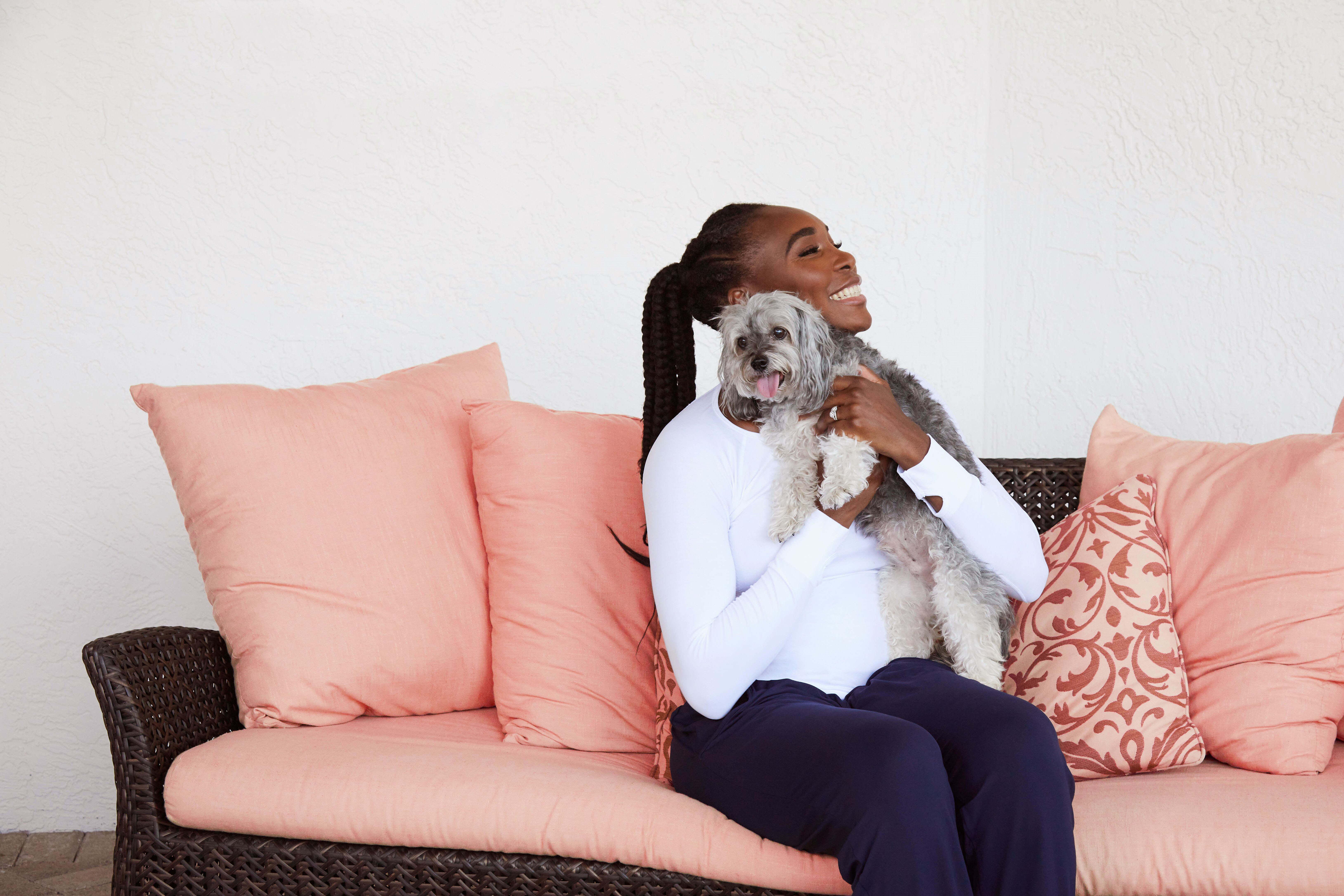 We're obsessed with your dog Harry. Does he come with you to all your games?
Harry is my #1 fan and I'm his. He comes everywhere with me. He also has helped me make business decisions. I was having a tough time picking a print for an EleVen collection and he walked on over and picked it for me! I know everyone says this about their dog, but mine really is a genius.
What's the first thing you do every morning?
Breathe and think about what I want from my day. Also, green juice!
What's the last thing you do at night?
I'm a workaholic! Work is fun for me as I do something I love. I'm usually reviewing branding, new projects, sketching, or studying new things. These days, my studies involve learning the methodologies of e-commerce. I love to do this with a movie on if I am sketching. I always talk to the family before bedtime and walk my little dog Harry and tuck him in as well.
Where do you see yourself in 20 years?
Enjoying the life I've built for myself.
xx, The FabFitFun Team
Guess what? Venus Williams
Psst! Have you signed up for FabFitFun yet? Don't miss out on $200+ in amazing beauty, fitness, fashion, and lifestyle products, access to exclusive fitness and cooking content on FabFitFunTV, members-only sales, and more. Join today!
To get the most out of your box products, make sure to check out the Insider page.