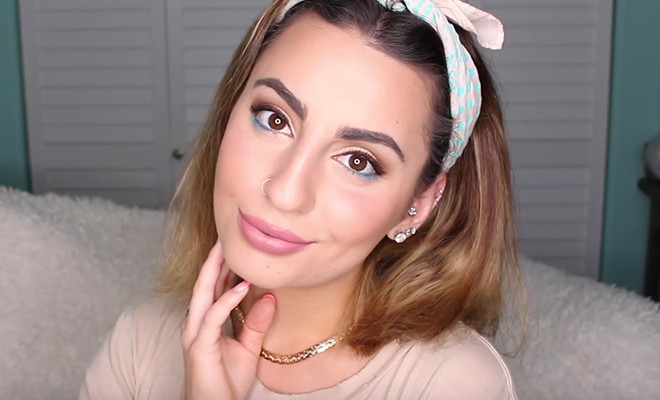 YouTube / MesiJesiBeauty
Internet stars are basically the new celebrities — so much so that it's been hard to keep up with the influx of YouTubers seeking fame.
However, we did our research and discovered quality up and coming YouTubers from the beauty, fashion, and lifestyle realm who are worth clicking the "subscribe" button. Whether you need advice on which makeup products to splurge on or tips on upping your fitness game, you won't be disappointed in these YouTubers.
Get ready to #YouTubeandChill.

Michele Monos
Give Michele's videos a watch if you're interested in all things fashion and beauty — as well as adorable baby and mommy advice! She's incredibly down-to-earth and easy to listen to so you'll definitely enjoy watching her videos.
---

Michelle Freedman
If you love hauls and unboxing videos (um, who doesn't?), this channel is for you. Michelle dabbles in all things makeup and fashion, and she also posts fun vlogs and lifestyle videos!
---

Nicol Concilio
This girl has some serious makeup talent! Check out her channel for crazy cool makeup looks, try-on hauls, and other beauty tips and tricks.
---

Wendy Bentley
A mom with a great sense of style and super fun DIY vids? Sounds like it's worth subscribing to us. Check out Wendy's channels for easy home DIYs and fashion picks.
---

Melissa Autry
Melissa is a freelance makeup artist with a ton of beauty knowledge, and her silly personality makes her videos super fun. Give this beauty a watch for tons of dupes, comparisons, and affordable makeup info.
---

Kristin Lauria
If you need a reason to smile every Monday, Kristin is a must-watch — she's straight up adorable! Her channel consists of tons of fashion and beauty content, but it also has a lot of fun challenge videos with her fiancé to spice it up.
---

Whitney Simmons
Need some fitness inspiration? Whitney's channel is packed full of workouts, motivational videos, and healthy food tips. Take a look at her vides to get fit with Whit!
---

Sam Ozkural
For some super helpful diet and lifestyle tips, check out Sam's videos. Her channel is filled with home workouts, fashion vids, and life hacks — you'll be bingeing her channel in no time.
---

MesiJesiBeauty
Jesi is a 25-year-old makeup artist whose channel is filled to the brim with her makeup know-how. If you like tutorials, first impressions, and favorites videos, you'll definitely love her content.
---

Alexandra Thomas
Alexandra's videos are all things beauty and lifestyle. Her content ranges from fun try-on hauls, to makeup tutorials and discussions on body positivity.
xx, The FabFitFun Team