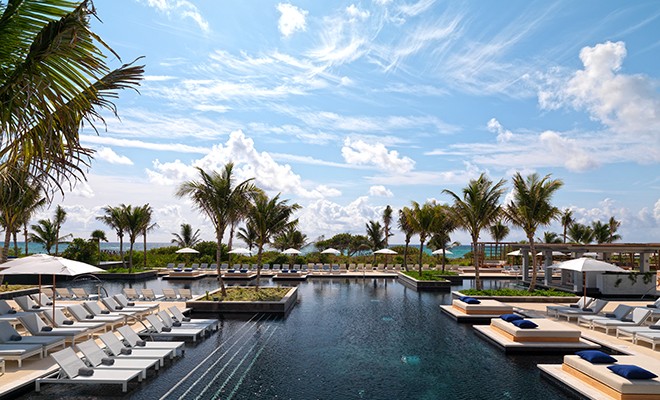 Sponsored by UNICO 20˚87˚ Hotel Riviera Maya
If you're already in vacation mode, you're not alone. With summer finally here, we can't help but dream about all the summer activities that are currently on our bucket list.
Luckily, we can breeze through it by booking a trip to UNICO 20˚87˚ Hotel Riviera Maya aka paradise. It's a one-of-a-kind, adults-only, all-inclusive vacation, which showcases the best of the Riviera Maya with luxurious amenities and cultural immersion for a multi-sensory getaway.
Now for the fun part…you can enjoy everything this tropical haven has to offer with their unique and exciting UNICO 20˚87˚ Inclusion Tours, which are included in the room rate (guests only need to pay a 20 percent service fee). From breathtaking views of the Caribbean Sea to a thrilling zip line ride over the Mayan jungle, here are five must-try signature tours of the Riviera Maya:
Garrafon Natural Reef Park $109
Explore the best that mother nature has to offer at this exotic park, situated on the southern point of Isla Mujeres. You'll witness the most incredible views of the reefs, cliffs, and the Caribbean Sea. You'll even have access to a VIP lounge that includes a premium open bar, buffet lunch, a pool, jacuzzi, lounge terrace, and restaurant — basically everything you need for the ultimate adults-only getaway.
Dine & Sail $89
Slow it down and enjoy a three-course dinner under the moonlit sky with your loved one. You'll be able to wine and dine with live saxophone music and the sound of the ocean waves in the background. After you've stuffed your belly with an appetizer, steak, and dessert, you can take a stroll around the lagoon while sippin' on a few cocktails from the bar (sounds like our kind of night!).
Coba & Tulum $175
One of the best parts about traveling is immersing yourself into the history and culture. You can journey around Tulum and Coba with a certified guide to explore an archaeological site that's considered one of the most impressive in the world. Literally touch and feel a part of ancient Mexican history and discover the mysteries of one of the last areas occupied by the ancient Mayans. Top it all off with some authentic cuisine…buffet style!
Xtreme Mayan Jungle Tour $89
Soar above the Mayan jungle on an exciting zip line ride that'll leave every thrill seeker satisfied. At the end of the line, you'll rappel into the jungle where a freshwater underground river awaits. Take a swim through a series of underground caverns and end your adventure with some local cuisine. All of that for under $100? Now that's a steal.
Xtreme Snorkeling $116
Tried everything on land? Then it's time to take it to the waters. Your snorkeling adventure will be jam-packed with fascinating sea creatures and unique wildlife for one of the best snorkeling experiences ever. Enjoy food and drinks after your little excursion to recharge for maybe even a second swim.
xx, The FabFitFun Team