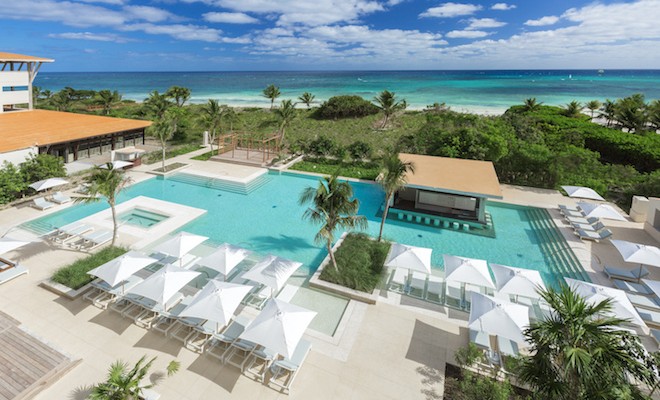 Sponsored by UNICO 20˚87˚ Hotel Riviera Maya
If you're like us, you've been spending your days fantasizing about your next vay-k. (Apparently it's frowned upon to wear a bikini to work and order a margarita from the IT guy…who knew?!)
And when it comes to dream destinations, there's one place we're swooning over: UNICO 20˚87˚ Hotel Riviera Maya, a one-of-a-kind, adults-only, all-inclusive vacation. We're about to go book our next stay, but before we do, we thought we would share five reasons why UNICO 20˚87˚ should be on your bucket list:
1. Location. Location is at the heart of the UNICO 20˚87˚ experience, which is why the latitude and longitude of the region are in the hotel name – 20˚N 87˚W. Five luxury signature excursions are offered so you can experience the best of Riviera Maya and fully immerse yourself in the region's beauty and culture.
2. Stay. Ocean views, semi-private swim-up pools, outdoor hydro spa tubs (need we go on?). UNICO 20˚87˚ offers 448 lavishly appointed guestrooms mixing modern luxury with familiar rustic moments inspired by the region's history. (Don't forget to visit Esencia Wellness for a signature spa treatment.)
3. El Anfitrión. Replacing the traditional butler service, your stay includes a personalized local host to give you an insider's guide on the local scene – from hard-to-get reservations to the best-kept secret spots. Any assistance you may need, El Anfitrión has you covered 24 hours a day.
4. Dining. Dining at UNICO 20˚87˚ is not a singular experience, but rather a multi-sensory adventure with constantly changing tastes, textures, and sensations. A rotating chef program is implemented at restaurant Cueva Siete, and the first to head up the kitchen is Chef Christan Bravo, who has cooked all over Mexico and Spain, and even competed on Top Chef Mexico!
5. Art and culture. Directly inspired by the rich character of the Riviera Maya, the design of UNICO 20˚87˚ incorporates many natural and handmade materials sourced within the area. And while the art displayed throughout the hotel varies vastly, it must all follow one rule: the artist must be Mexican or have a connection to the country.
Yep, this is one experience you definitely want on your list. Stop dreaming and book your stay here.
P.S. Share a photo or video with your Spring Box products and tag @fabfitfun and use hashtags #fabfitfun #fffgiveaway for a chance to win a 4 day/3 night stay at UNICO 20˚87˚ in an Alcoba Ocean View Room (roundtrip airfare included) and $1,000 in free goodies! Click here for more details.
xx, The FabFitFun Team