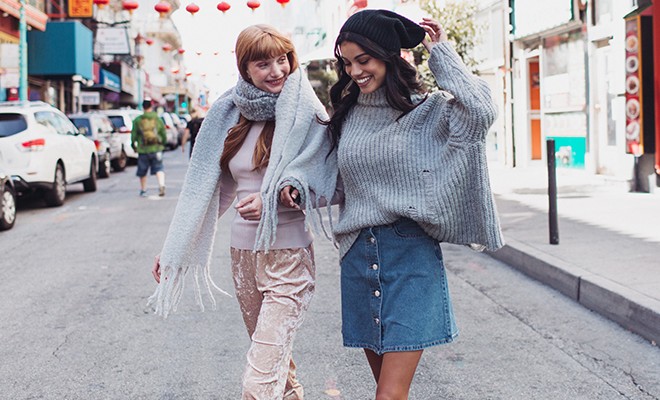 FALL 2017 BOX PARTNER
As summer draws to an end, you might think it's time to retire your shorts, tanks, and dresses. But that couldn't be further from the truth.
Here are five ways to get the most out of your summer wardrobe (with a little help using FabFitFun Fall Box items, of course!).
Throw on a beanie
A beanie adds a cozy yet cool factor to any look, which makes The Jetset Diaries Beanie (a Choice item in the FabFitFun Fall Box) a go-to item once the weather cools. Even an outfit as simple as a t-shirt and jeans can instantly be fall-ready when you throw on a chic beanie.
Layer, layer, layer
The layering trend is far from over. Wear a turtleneck, long-sleeve, or tee under your tanks and dresses for a cool layering effect. It'll keep your shoulders and arms warm in the crisp fall air.
Wear a dark lip
A vampy lip might not do much to keep you warm, but the added color will take your look from a fresh summer glow to a sultry autumn one. Slap on the trèStiQue Matte Color & Shiny Balm Lip Crayon (snag yours in the FabFitFun Fall Box!) for all the fall vibes. Plus, what better time to bust out a dark lip than during fall?
Don't underestimate a simple belt
A belt is a style staple year-round, but the versatility makes it especially great for transitioning your wardrobe into a new season. Whether you wrap it around a dress for more shape or make a simple sweater and jeans combo more interesting, the B-low the belt Mia Belt (a Choice item in the FabFitFun Fall Box) is a must-have for your autumn wardrobe.
Stock up on tights
Don't put away those dresses quite yet. If you live in a place where the fall weather is more moderate, you can get away with pairing your summer dresses with tights. Whether you shimmy into simple sheer ones or tights with fun prints and stitching, the extra layer will keep your legs nice and toasty.
Scarf it
When in doubt, scarf it out. The Mer-Sea & Co. Scarf (featured in the Fall Box) is fluffy, soft, and warm sans the itchiness you find in most knits. Pair it with your usual ensemble for a fall-esque look that you just can't go wrong with.
xx, The FabFitFun Team
P.S. Psst! Have you signed up for the #FabFitFun box yet? Don't miss out on $200+ in amazing beauty, fitness, fashion, and lifestyle products every season. Join today!
To get the most out of your box products, make sure to check out the Insider page.