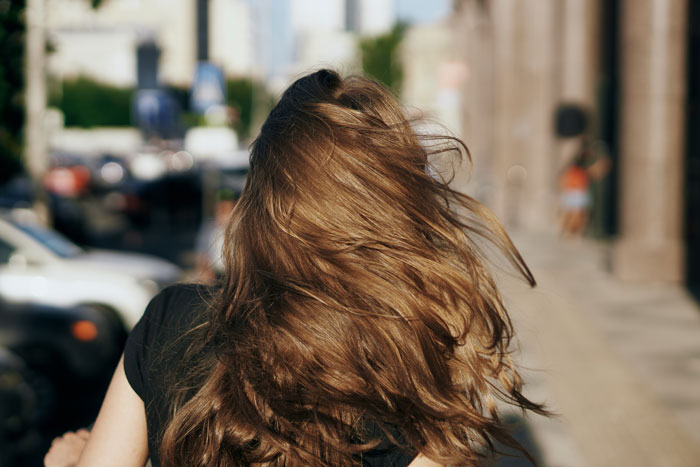 When it comes to hair care, most people go straight for the strands. After all, a soft head of hair means a healthy head of hair, right? Well, not quite. Turns out, hair care should start from the root aka the scalp.
As you age, your scalp becomes thinner and loses its elasticity, which in turn, reduces the number of blood vessels. The result? Hair thinning, graying, and balding. "We must start with scalp health and work our way down. By starting there, we can maintain a full head of hair that's beautiful to style," explains Jennifer Canova, a hair expert at Tallulah East.
Want stronger, more luscious locks? Check out three expert tips below.
Invest in a high-quality shampoo
Yes, the type of shampoo you use matters. Canova recommends using Oribe's Shampoo for Magnificent Volume to "create the perfect scalp environment for growing healthy hair." The unique formula is jam-packed with body-building polymers to plump the hair shaft and rare botanical extracts to defend hair from oxidative stress and photoaging. Additionally, Diana Osborne, a holistic hair expert says that "as we age, our scalp produces less oil. Products with more natural oils and moisturizers [like the Innersense Color Awakening Hairbath] are going to help both your hair and your scalp long term, versus silicones and synthetics."
Follow a clean diet
"One of the best things you can do for your hair and scalp is [to treat it] from the inside," says Osborne. "Make sure you're taking care of your gut health so that all that good food you're eating is actually absorbed and makes it to your scalp. Curcumin is an incredible anti-inflammatory that can help all sorts of things including scalp health. Omega-3s help as well!"
Wash hair one to two times a week
"Try and aim to only wash your hair one to two times a week," advises Osborne. If you wash your hair any more than that, you run the risk of a dry scalp. Osborne recommends the Innersense Color Radiance Daily Conditioner as it's formulated with shea butter to soften and hydrate, rice bran oil and avocado oil to smooth cuticles and improve elasticity, and rooibos tea to provide anti-aging properties.
Scalp? Check. Split ends? These are the products hair experts recommend for split ends.
xx, The FabFitFun Team