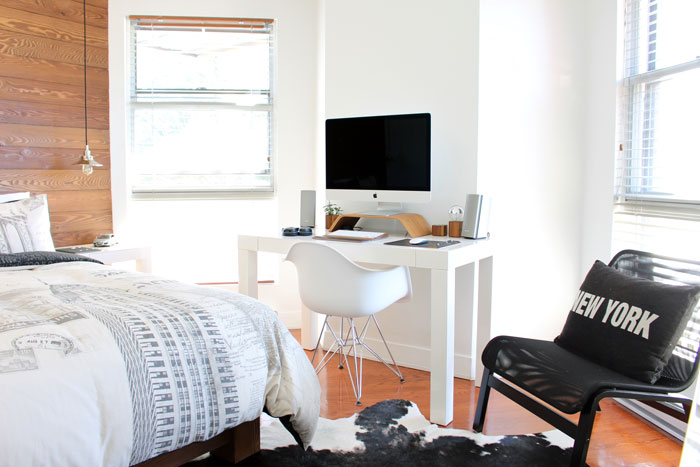 Feature Image by Gabriel Beaudry
A room isn't small just because of a lack of square footage. In fact, a room can feel smaller than it actually is due to trivial décor mistakes like boxy furniture, light paint colors, and inconsistent flooring.
Want your room to look and feel bigger? We asked interior design experts to share five things you shouldn't do in order to make your space feel roomier.
Clutter
This is a no-brainer, but the more décor you have, the smaller your space will feel. So if you have a small space, plan to decorate accordingly. "Minimalism is key, and the first thing you need to do is admit that the space is small. You might not be able to keep all of the normal things that you want and the faster you come to grips with this, the happier you will be," says Teris Pantazes, owner of Construction Kat. Stick to the bare essentials and maintain a balance of small and large décor pieces to avoid a cluttered look.
Lack of wall use
Turns out, bare walls can make your small space appear even smaller. "When hanging art in a small room, create the illusion of space by using the entire wall," says Emily McCrary-Ruiz-Esparza, brand editor of House Method. She recommends hanging pictures from about knee level all the way to the ceiling in a somewhat organized fashion.
Boxy furniture
"Your boxy furniture is not doing your room any favors! Smaller rooms need furniture with exposed legs; [it] gives a sense of extra space and lets light pass through more freely," explains Georgiana Mihaila, editor of Fancy Pants Homes. Plus, you can use the space underneath raised furniture as extra storage!
Light paint colors
You might have heard that light paint colors can make your space feel larger, but Cheryl Eisen, interior designer and president of Interior Marketing Group, disagrees. "Instead, I [recommend] a dark accent wall. It pushes the visual space further back and creates depth in the room."
Inconsistent flooring
"Keep your flooring consistent from room to room. Homes with tile in the kitchen, hardwood in the foyer, and carpet in the living room feel choppy and contained. Create better flow and make your space looks larger by using one continuous flooring option throughout," says Jessica McRae and Kristen Yonson, co-founders of SwatchPop!.
Now that you're familiar with common decorating mistakes, learn how to make your small space feel larger.
xx, The FabFitFun Team