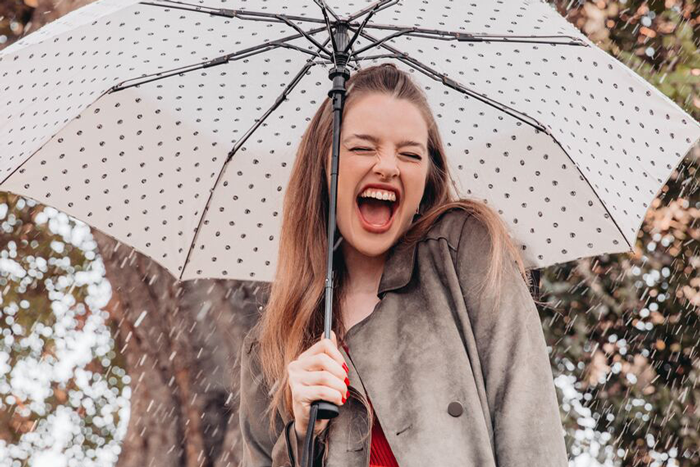 FALL 2018 BOX PARTNER
We're never quite as prepared as we like when heavy rain hits, so follow these tips the next time mother nature sends a storm. 
Dropped your phone in a puddle?
Dry off your phone and place it in a bag of dry rice as soon as you can. The dry rice will help absorb the moisture from your phone without damaging it. Leave your phone in the bag for at least 24 hours! Don't have a bag of rice? You can also use silica gel (the white bags that come in boxes of new shoes).
Are your shoes soaked?
Stuff your shoes with newspaper and place a few sheets underneath it to absorb extra water.
Broken umbrella?
Invest in a quality umbrella like the Catherine Malandrino Umbrella. It features an ergonomically shaped rubber handle, so you can firmly hold the umbrella against any wind or rain.
Wet clothes?
If you don't have access to a dryer, put your wet clothes onto a towel, roll it, and press down to absorb any excess water.
Headphones all tangled up?
Instead of fumbling with long wires, use wireless buds like the CYLO Cobra Bluetooth Wireless Earbuds. Now you can sing in the rain tangle-free!
xx, The FabFitFun Team
Psst! Have you signed up for FabFitFun yet? Don't miss out on $200+ in amazing beauty, fitness, fashion, and lifestyle products, access to exclusive fitness and cooking content on FabFitFunTV, members-only sales, and more. Join today!
To get the most out of your box products, make sure to check out the Insider page.