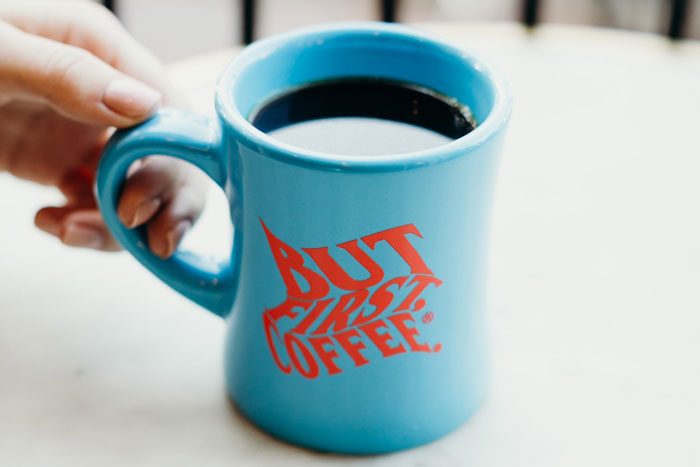 Feature Image by Alfred
FALL 2018 BOX PARTNER
Early mornings can be a struggle, especially if you're not a morning person. So next time you set the alarm for 6 a.m., follow our tips below to make waking up early less of a chore, and more of a lifestyle.
Don't sleep next to your phone
Avoid falling into the rabbit hole of hitting snooze one too many times. Leave your phone on the other side of the room, so that when the alarm goes off, you'll be forced to get out of bed to turn it off. Besides, getting away from your phone's bright screen will help you fall asleep faster, so you wake up feeling refreshed.
Apply an eye cream
Early mornings can often cause dark circles and bags under your eyes. Thankfully, an eye cream like the FARMACY Dew It All Total Eye Cream can help minimize any signs of stress and fatigue while brightening the under-eye area.
But first, coffee
There's nothing better than sipping on a steamy cup of coffee in the morning to wake your body up. Use the Alfred French Press to brew yourself a mean cup of joe. It features a stainless steel filter and frame that's extremely easy to use.
Plan your outfit the night before
Instead of changing your outfit multiple times before leaving your house, skip the extra minutes of rushing to pick an outfit in the morning and set your clothes out the night before. Trust us, it's a gamechanger.
Wind down before bed 
The key to waking up feeling refreshed (no matter how early) is to get a good night's sleep (duh!). Whether you read a poetry book, listen to a meditation podcast, or cuddle with your pup, do something before bed that puts your mind at peace.
How do you conquer an early morning? Tell us your best tips in the comments below!
xx, The FabFitFun Team
Psst! Have you signed up for FabFitFun yet? Don't miss out on $200+ in amazing beauty, fitness, fashion, and lifestyle products, access to exclusive fitness and cooking content on FabFitFunTV, members-only sales, and more. Join today!
To get the most out of your box products, make sure to check out the Insider page.