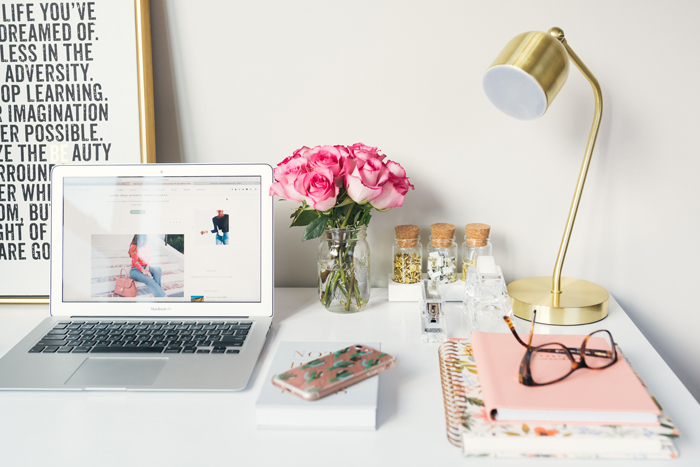 Feature Image by Arnel Hasanovic
WINTER 2018 EDITOR'S BOX PARTNER
A productive "work from home" day isn't always the easiest feat — especially with a comfy bed just a couple feet away, a kitchen stocked with your favorite snacks, and complete freedom to do whatever you please.
But before you throw in the towel and spend the day binge-watching Netflix, give these five easy tips a whirl.
Create the perfect atmosphere
When it comes to working from home, it's all about creating a comfortable yet creative workspace. Start with warm white lighting that's easy on your eyes and a comfy chair (because you'll most likely be sitting all day!).
Designate a separate work area
One of the biggest mistakes people make when working from home is not creating a clear distinction between work and play. When you're at home, ensure that wherever you sleep or lounge is completely separate from where you work (so, yes, don't work from your bed) – this will train your mind to know that desk equals work and bed equals sleep.
Keep your work area clutter-free
Organization is key to staying productive. Ensure your workspace is free of any clutter by utilizing pieces like the Pier 1 Mini Ceramic Prep Bowls to store miscellaneous items (paper clips, coins, hair ties, staples, etc.).
Make sure you have all the essentials
Beyond the computer and strong Wi-Fi, there are a few essentials to make working from home more comfortable and productive. Think warm throws like the Mark & Graham Colorblock Throw (especially during the winter!), self-care tools like the WAY OF WILL Uplift Essential Oil Set to uplift your senses throughout the day, a planner to stay organized, and, of course, coffee for a caffeine boost.
Dress to impress
Start your "work from home" mornings the same way you would if you were going to the office. Dressing up is a great confidence and productivity boost that will help switch your mind to work mode.
Set aside time for breaks
Whether you use an online calendar or enjoy writing out your schedule, allot specific break times throughout the day to act as checkpoints. Trust us, you'll be more motivated to work during work hours and your break will feel more well-deserved.
xx, The FabFitFun Team
Psst! Have you signed up for FabFitFun yet? Don't miss out on $200+ in amazing beauty, fitness, fashion, and lifestyle products, access to exclusive fitness and cooking content on FabFitFunTV, members-only sales, and more. Join today!
To get the most out of your box products, make sure to check out the Insider page.