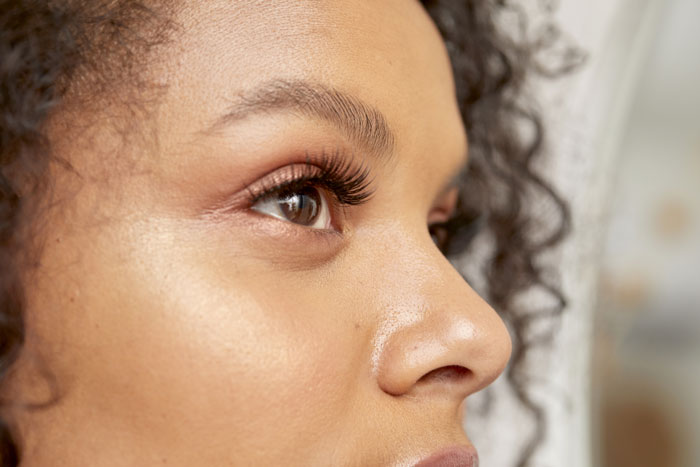 WINTER 2019 BOX PARTNER
A full set of lashes can give your eyes that extra sparkle and oomph. If you're looking for longer lashes (and these days, who isn't?), there are plenty of ways to make your lashes look fuller and thicker.
Whether you're a fan of the natural look or if you're looking for drama and volume, here are 6 ways to score longer-looking lashes.
Invest in a lash serum
Serums can be applied to the lash line at night to help stimulate the hair follicle and enhance lash growth. Whether you opt for a clean, green, organic, or chemical formula, you'll be surprised by the difference that a little TLC makes. Formulas like the LashesMD® Eyelash Conditioner use rejuvenating and moisturizing amino acids, peptides, and vitamins to give you fuller and stronger lashes in as little as four weeks.
Wear falsies
Faux lashes can be purchased in an array of designs to suit your desired style. Choose from fanned, dramatic, natural, and fluttery, then simply apply them with glue along your lash line. Don't forget to gently remove them at the end of the day with makeup remover. We recommend the Battington Lashes Monroe 3D Silk Lashes + Glue Kit as they mimic the structure of your lashes for a natural yet glam look.
Try magnetic lashes
If you're on the fence about applying glue to your lash line, we hear you. Instead, consider a pair of magnetically affixed false lashes instead. Simply apply them by sandwiching your natural set between two, magnetic applicator strips. This is a fabulous way to avoid damage to your original hair when removing strong, adhesive glue.
Get a lash perm
Just like the tint-and-curl process of a keratin lash lift, you can book yourself an eyelash perm minus the dye. This semi-permanent, chemical process provides subtle lift for the duration of your lash growth cycle (i.e. four to ten weeks), and it's especially great for those with eyelashes that refuse to hold a curl.
Line your upper lash line
A '60s-inspired, subtle cat-eye is the oldest trick in the book for making your lashes look thicker. Using a liquid liner, draw a slight flick at the edge of the eye to mimic the natural fanning of your lashes. We also recommend lining your upper waterline with a brown or black liner to help your lash line appear denser and darker.
Don't forget to curl your lashes
It's so easy to skip this step in your beauty regimen, but you shouldn't because curling your lashes can make a big difference. The type of curler you use matters, too. Opt for one of the cult-favorites made by Kevyn Aucoin or Shu Uemura. Another tip? Heat up the metal part of your lash curler with a lighter. Use your fingers to make sure the metal isn't too hot, then gently curl your lashes. It acts as a mini curling iron!
xx, The FabFitFun Team
Psst! Have you signed up for FabFitFun yet? Don't miss out on $200+ in amazing beauty, fitness, fashion, and lifestyle products, access to exclusive fitness and cooking content on FabFitFunTV, members-only sales, and more. Use code SNOWFLAKE at checkout for 10% off your first box. #yourewelcome
To get the most out of your box products, make sure to check out the Insider page.