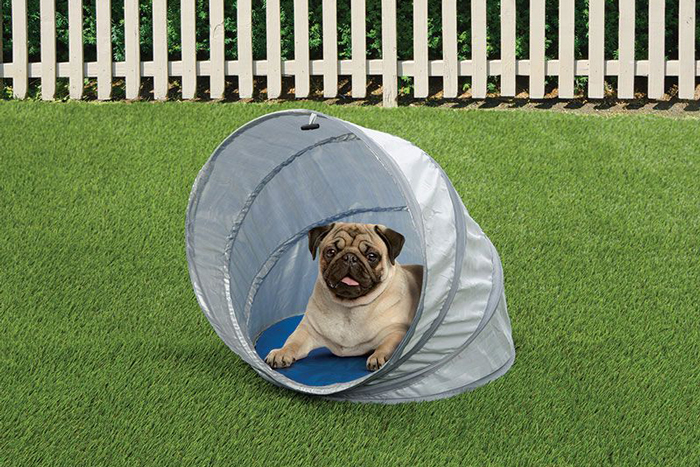 It's time to share the seasonal excitement of Add-Ons with your pet! These products will be a huge hit with your furry friends and will also make your life so much easier.
From a nifty sun shade to dog toys, check out some of our favorite picks for our pets. The sale opens to Seasonal Members on Thursday, February 18 at 9 a.m. PT. Not a member yet? Use code FLORALS at checkout for 20% off your first box, and to access member-exclusive sales and tons more perks.

If your pup loves to play with toys, these are about to be their favorite. These unstuffed critters are great for dogs of any size and super durable even if your pet usually loves to destroy their beloved toys.
---

Your pet needs protection from the sun just like you do. Keep your fur baby protected in style with this shield that's super simple to set up and break down.
---
We're all about functionality and this dog bed meets dog feeder is our literal dream. The feeding station slides in and out with ease and once your pet is done with a meal they can hop right up to the bed and take a snooze.
---

Obviously, your dog loves to take walks but they might love them a little more than you'd prefer. If your four-legged friend loves to pull and take the lead on walks, this leash will give you more control over them to ensure they're safe during outdoor activities. The leash is also reflective for added safety at night.
---
Rain or shine, keep your pet safe with this small but powerful light that clips right onto their collar or leash. If you live in an area with lots of cars, this is a great way to ensure everyone has eyes on your pets when taking walks at night or in bad weather.
---

We adore our pets, but their shedding? Not so much. This brush is great for both cats and dogs to help remove loose hair that you don't want all over your couch or clothes. After brushing, push the button and it'll release the hair for easy cleaning.
xx, The FabFitFun Team