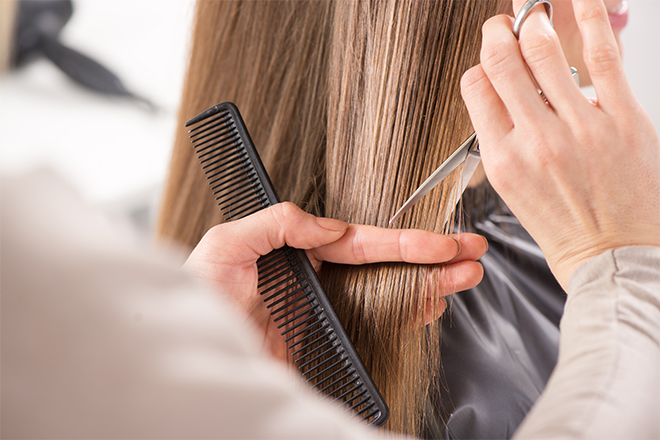 The relationship between a gal and her hair stylist is a sacred, treasured bond. You're placing unwavering (most of the time) trust in someone with a pair of scissors and the ability to change your life — for better or for worse. Communication is key in this relationship, as things can go south…really fast.
Are you seeing someone new or want to spice things up? Let your hair stylist know what you really want with our list of things you absolutely should discuss the next time you're in the hot seat.
How Much You Actually Want Chopped
A trim could mean a lot of things. You need to be upfront about how much length you want cut off. Whether it's a significant amount or cleaning up the ends, make your instructions clear. You don't want to end up with hair much shorter than what you intended or pay a lot to only receive a slight trim.
Your History
If this is a new hairdresser, tell all. From terrible dye jobs to a bang trimming disaster, let her know what you or your former hair stylist have put your hair through. If you're visiting the same hairdresser, be honest about anything you've done or haven't done to your hair since your last visit. It'll make everyone's time a lot more worthwhile and will eliminate any guesswork.
How Much You Are Willing to Pay
If your hair stylist talks you into a treatment or a set of highlights that you weren't planning on getting, make sure you know the cost before any styling takes place. Add-ons can really take a toll on your bill and could put you in an awkward position once it's time to pay. If your stylist likes to take a "wing-it" approach with how much color you're getting, set a price upfront.
Your Daily Hair Routine
Let your stylist know that you air dry your hair everyday or wash it only once a week before any cut. He or she will be able to determine if a cut is the right fit for your lifestyle. They'll be able to tell you if the cut you want is too high maintenance for your air-drying ways!
Your Comfort Level
Honesty is always the best policy — let her know how comfortable you are in the chair. Whether you're apprehensive about trying a new color or length, keep her in the loop and she'll do her best to accommodate your wants. If you see too much hair on the ground, speak up. She'll be able to fix it a lot easier mid-cut than to start all over again.
xx, The FabFitFun Team