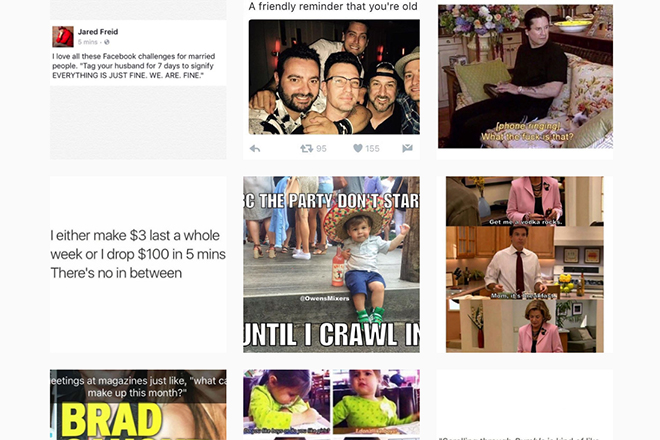 Nowadays, we all turn to our Instagram feeds for fashion inspo, the latest gossip on celebs, and picture perfect lattes. But in between all of those lust-worthy shots, we could use a good dose of reality…in a light-hearted way, of course!
Luckily, there are tons of hilarious Instagram accounts that aim to make us laugh, chuckle, and giggle, whenever we need a good dose of funny and relatable content. While your outfit might not be as perfect as that fashion blogger you follow, we're sure you'll find posts that are almost too relatable to your own life.
Don't forget to tag @allyourfriends as you scroll through these accounts.
@thefatjewish
The man behind this account has become well known for his sarcastic memes that poke fun at the daily idiosyncrasies of which we are all guilty of. His posts are too hilarious and he has the guts to say what we're all thinking. We also love how he doesn't take his own life too seriously either…look at his haircut!
---
@kanyedoingthings
Follow the famous K family on social media and you'll catch them at all their finest moments, making them seem picture perfect. However, this account will reassure you that celebs are just like us. Take a glimpse into some candid yet funny moments of Kanye's life to bring to light that not even Hollywood's most A-list couple lives glamorously all the time.
---
@textsfromyourex
Everyone thinks they have it the worst when it comes to bad relationships and breakups. But they thought wrong. Scroll through these hilarious yet real convos between exes to give your self a good laugh and a little self-esteem boost.
---
@crazyjewishmom
If you think your mom is a little too involved in your life, then you'll totally relate to this one woman's real life conversations with her mother. Follow their constant dialogue to get a glimpse into all the funny moments of this dynamic mother daughter duo.
---
@betches
OK, this account has the best memes that poke at the "betchy" side in all of us. The founders of this account say all the things we're thinking and every photo is all too relatable from quotes about how much serving is in a spoonful of peanut butter to every #basic girls' drunken moments.
---
@chillwildlife
Everyone loves to share photos of their modelesque dogs, but in reality, we all know it took at least 30 photos to get one good one. But what do we really want to see? Photos of people's pets being derpy like they normally are!
---
@celestebarber
Sometimes photos of our fave celebs can make us feel not so great about our own lives…but not this woman. She recreates celeb photos in the most satirical way allowing us to put the glam shot in perspective and helping us realize these photos are not to be taken so seriously.
What are some of your other favorite hilarious Instagram accounts? Let us know in the comments below!
xx, TheFabFitFun Team