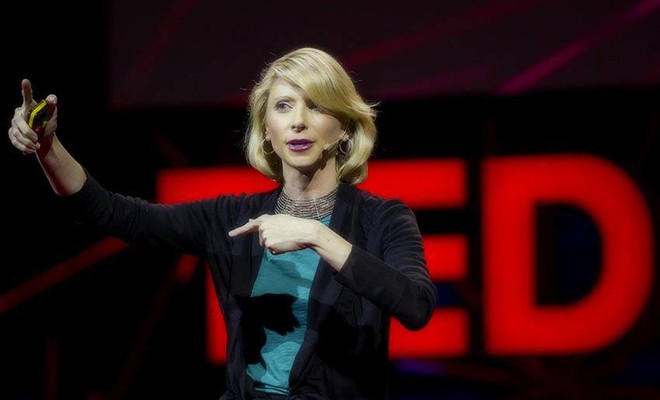 Amy Cuddy
Watching TED Talks may not be at the top of your to-do list, but trust us when we say many of the talks will leave you feeling inspired and more fulfilled.
Not sure where to start? Here are five TED Talks that every woman should watch.
Amy Cuddy: "Your body language shapes who you are"
Harvard psychologist, Cuddy's confidence-boosting mantra is worth memorizing: "fake it until you become it." In this TED Talk, she shares how she learned to take up space and present herself as an authority even when she felt like she didn't deserve it — something a lot of women can relate to.
---
Chimamanda Ngozi Adichie: "We should all be feminists"
This one's got Beyoncé's approval — she sampled it in "Flawless" — and for good reason. It's one of the most succinct summaries there is of the feminist movement and why we need it. Show it to anyone who claims gender inequality's no longer a problem.
---

Nicole Daedone – Orgasm: "The cure for hunger in the western woman"
Prepare to have your mind blown. In this provocative talk, Daedone puts forth the theory that sex (yes, sex) can bring us spiritual enlightenment. Women's sexuality has been stigmatized for centuries, and Daedone asks what the world would look like if it weren't. Some of her stories are insane.
---
Thordis Elva and Tom Stranger: "Our story of rape and reconciliation"
On this stage, something seemingly impossible happens: a rapist and his victim come together for a compassionate conversation about forgiveness. Years after Stranger assaulted Elva during their school days, they reunited, talked about what happened, and wrote a book about it. Their talk is proof that it really is possible for people to learn from their mistakes and heal from trauma.
---
Brené Brown: "The power of vulnerability"
"We live in a vulnerable world, and one of the ways we deal with it is we numb vulnerability, " psychologist Brené Brown explains in this talk. But by suppressing all our uncomfortable feelings by eating, drinking, or working, we also suppress our ability to feel happiness and love. Here, Brown makes a great case for being vulnerable, no matter how scary it is.
xx, The FabFitFun Team