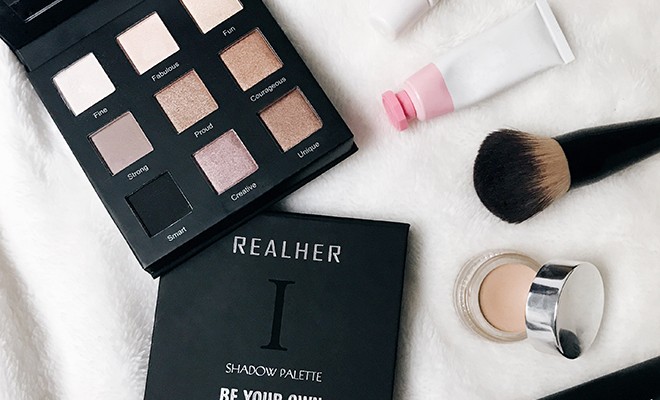 We don't say "thank you" enough to the ones who deserve it most. Whether it's your mom who listens to you vent about your job every day or that friend who truly makes the world a better place, why not show appreciation to your favorite people with a mini "just because" gift?
From mini candles to a beautiful eyeshadow palette (tip: tuck a chocolate bar in there), treat your loved one to something special.
P.S. A few of these gifts are available in the FabFitFun Editor's Box (snag yours today!).
Rifle Paper Co. Herb Garden Coaster Set $14
Coasters are always a good gift since they're so versatile — and this set is no exception (featured in the FabFitFun Editor's Box). It features four floral designs with an "antique" feel and will be an excellent addition to anybody's bar cart.
---
Luv Aj Full Bloom Lariat (Rose Gold) $75
Who doesn't love a new piece of jewelry? This dainty necklace (featured in the FabFitFun Editor's Box) has an open hoop and the Swarovski crystals add a touch of sparkle to the otherwise modern chain. Gift this to your best pal or that fashionable friend who will know exactly how to incorporate this fun piece into her outfit.
---
Kusmi Green Teas Assortment $26.50
A solid cup of tea can transform anyone's day. This set has flavors ranging from tangy to sweet, so whoever you gift this to will love the variety.
---
RealHer Eyeshadow Palette $28
Whether the recipient is a pro at makeup or has never touched more than a lip balm in her life, this eyeshadow palette (featured in the FabFitFun Editor's Box) is a great gift as the shades are super pigmented, long-wearing, crease-resistant, and so easy to use to create a sultry smokey eye or every day look.
---
Juniper Books Fall in Love Collection $150
Good literature, especially classic love stories, is a fine addition to anyone's library. This set is particularly gorgeous (those colors!) and is a simple yet thoughtful gift. The recipient can dive straight into their favorite book or discover a new story.
---
Mast Brothers Sea Salt 70 Gram Chocolate Bar $8
A chocolate bar that looks as good as it tastes is always a great gift. These gourmet bars are made from scratch in New York and wrapped in beautiful paper. If sea salt isn't your flavor of choice, the brand carries everything from coffee to goat milk chocolate bars.
---
Herbivore Botanicals Calm Bath Salts $18
Give the gift of calm (literally) with this handy little bottle. The Himalayan pink salt crystals bring harmony and will lightly detoxify bath water. Plus, it's a pretty and feminine décor piece for your bathroom when you're not using it.
---
Wedderspoon Raw Premium Manuka Honey $30
We all know honey is delicious, but did you know that this version is one of the healthiest? This raw, unpasteurized Manuka honey tastes great on toast, but can also be used to heal ailments. Some of its magical powers include balancing your digestive system, improved wound healing, and can help you sleep better. Make this great pantry staple your next gift!
---
Diptyque Mini Candle Set $150
Whether these 12 candles are all for one person or you want to divide and conquer gifts, this set is a winner. Gift the adorable French mini-candles to friends, teachers, relatives, or honestly yourself (you deserve it). The scents range from super popular Baies to Ambre and Tubereuse.
xx, The FabFitFun Team
P.S. Psst! Have you signed up for the #FabFitFun box yet? Don't miss out on $200+ in amazing beauty, fitness, fashion, and lifestyle products every season. Join today!
To get the most out of your box products, make sure to check out the Insider page.