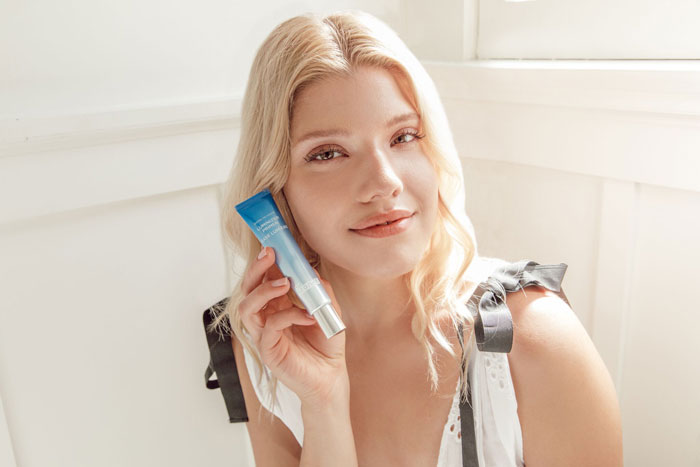 SUMMER 2018 EDITOR'S BOX PARTNER
Want your foundation to look as natural as possible? Well, the secret isn't to use an overpriced name brand foundation. In fact, it actually depends on the application and how you prep the skin beforehand.
We're sharing our top tips on how to look like you're not wearing foundation (P.S. The products mentioned below are featured in the FabFitFun Editor's Box, so sign up today!).
Use a cleansing device
A flawless face starts with a clean, fresh base. Use a cleansing device like the FOREO LUNA™ fofo to deeply cleanse your pores and remove dirt, oil, and other makeup residues that can make foundation look cakey. Plus, your skin will appear brighter, firmer, and more youthful over time in comparison to washing your face without a cleansing device. You should also use a cleanser that not only removes dirt and impurities but also moisturizes and softens the skin so as not to cause dry patches or flaking like the Whish Beauty Rice Milk + Rose Creme Cleanser.
Make sure to exfoliate
We hear this time and time again…and for good reason! Whether you use an exfoliator or an exfoliating pad, exfoliating will only help reveal brighter, visibly smoother skin and slough away any remaining dead skin cells that can make foundation look uneven. The TULA Dual-Phase Skin Reviving Pads (5-pack), in particular, uses ingredients like papaya fruit extract, willow bark extract, and witch hazel to provide natural brightness, clear pores, and remove excess oil. Exfoliate once or twice a week for best results.
Invest in a quality moisturizer
Dewy, hydrated skin is a great base to apply foundation on. Use a light yet hydrating moisturizer to prep the skin like the pūrlisse BLUE LOTUS Balancing Moisturizer. This one uses white tea, vitamin E, and French marine plants to intensely hydrate the skin while preventing fine lines and wrinkles.
Yes, primer matters
A primer will help your foundation sit on the skin naturally and last all day. We like the dr. brandt pores no more® LUMINIZER PRIMER because it blurs the look of pores and imperfections to create a flawless, glowing complexion underneath the foundation.
Don't put foundation on your nose
Yes, you read that right! The nose is the center of your face, so by not applying foundation to it, you're giving off an optical illusion that your skin is bare. Other than that, use a silicone makeup applicator like the MakeupDrop Winter Glitz to effortlessly apply and blend foundation to the rest of your face without wasting any product.
xx, The FabFitFun Team
P.S. Psst! Have you signed up for the #FabFitFun box yet? Don't miss out on $200+ in amazing beauty, fitness, fashion, and lifestyle products every season. Join today!
To get the most out of your box products, make sure to check out the Insider page.