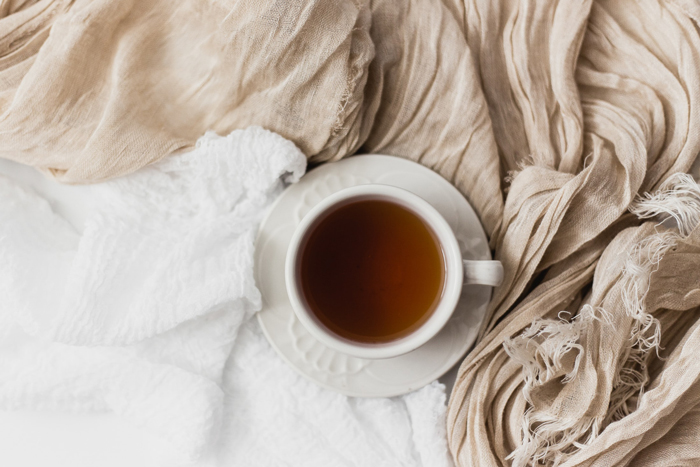 Feature Image by Carolyn V.
If you've ever been overwhelmed by all the amazing teas out there, consider selecting your teabag based on your mood. Whether you're stressed out or want to catch some quality sleep, check out our top tea picks for every mood.
Ever have one of those days when you just want to get away from everything? Take a vacation with this tropical tea that tastes of papaya, mango, and pineapple.
---
If you've got a busy day on the horizon, brew a cup of this tea. Organic ingredients like cinnamon, goji berries, and eleuthero root get your blood pumping so you can keep up your stamina.
---
Slip into your pajamas and get ready for some beauty sleep. Chamomile, lavender, and valerian root work together to help you drift off to sleep.
---
Instead of a trip to the bakery, take out your teacup instead. Indulge in flavors like Orange Cinnamon Roll, Ginger Peach Cobbler, and Aloha Pineapple Chamomile.
---
Stop tummy trouble in its tracks by sipping on this tea. The ginger works its magic by aiding digestion and can even help if you're feeling queasy.
---
What could be cozier than a mug of tea on a cold or rainy day? Grab a fluffy blanket and indulge in fall flavors like apple and maple.
---
Slip into something more comfortable, like a steamy cup of tea. You'll fall in love with this black tea that's made with notes of pineapple, sunflower, and lemon balm leaves.
---
When life gets too crazy, call a timeout for some tea! Fruity flavors like blueberry, cherry, and apricot are blended with herbs to help you unwind and relax.
---
Sometimes the days blend together and your daily routine never seems to change. Add some sparkle to your day with these green tea and jasmine flower balls that unfold and bloom when added to hot water.
---
As the name of the tea indicates, this minty tea is created to help soothe a sore throat. Plus, the citrus and ginger help you strengthen your immune system to help you fight off your cold.
xx, The FabFitFun Team